JFCS' Comprehensive Care Includes No-Interest Loans and Grants
Emergency Assistance
Stories & Testimonials
Financial Assistance
Mark Bely says that what he knows about JFCS is that it is a go to organization. When you need help, have questions, or want to give back to the community, you go to JFCS.
Mark was nine years old when his family left Russia for a new life in San Francisco. His parents, Boris and Larisa, moved the family to be closer to Boris' father, who had made the same journey a year before. With hard work and the help of JFCS' Emigre Services, the three generations of the Bely family soon adjusted to life in America—Boris became a real estate consultant and Larisa an accounting assistant.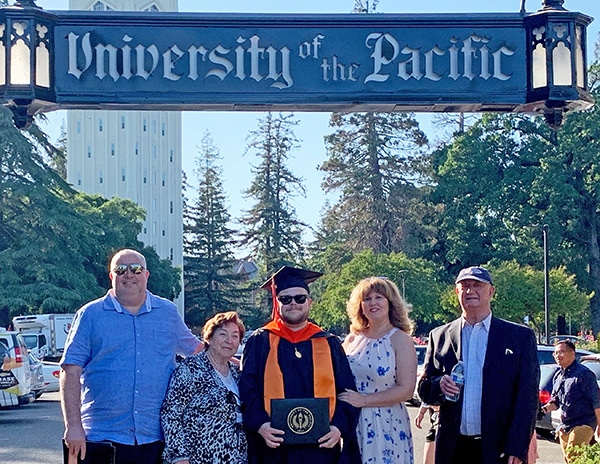 For years, Boris and Larisa worked and saved with the dream of sending Mark to college. But soon before Mark turned 18, his grandfather became chronically ill. Putting family above everything, Larisa made the decision to stop practicing as an accountant and become her father-in-law's caregiver.
Mark, who honed his leadership skills through JFCS's YouthFirst program and held a Summer Internship in JFCS' Tech Department, had a vision for the future: he longed to attend the University of the Pacific (UoP) to study Information Technology (IT) and engineering.
Mark's parents had sacrificed a lot for him to go to college, but needed help to ease the financial burden. Remembering the support they'd received when they first arrived in San Francisco, they turned to JFCS for help. JFCS' Financial Aid Center stepped in to connect Mark with various educational loans and grants and to assist with his expenses. In Mark's sophomore year, he was awarded JFCS' Vivienne S. Camp Scholarship—a huge accomplishment, as the grant is only given to selected students each year.
Thanks to hard work, family sacrifice, and some help from JFCS' community, Mark earned his degree from UOP's School of Engineering & Computer Science and landed his dream job as a Performance Engineer at NVidia in Santa Clara.
Relief During the Pandemic
The Bely family could have never forseen that in 2020, the world would be rocked by the coronavirus pandemic, and the life they had worked so hard to build might fall apart. The Shelter in Place order forced Boris to pause on the real estate project that would be his family's primary source of income. Fearful that his family could lose everything, he once again turned to JFCS for support.
The pandemic has left countless individuals, families, and small businesses struggling financially. Thanks to the generosity of our community, hundreds of people—like the Bely family—have received comprehensive financial assistance and personalized support from JFCS' Pandemic Emergency Loans and Grants program to bridge the costs and get back on their feet.
"Time and time again, this community has been here for us." Mark says. "The no-interest JFCS Pandemic Emergency Loan got my parents through a very tough time."
Fortunately, Boris has since returned to work and been able to begin repaying his loan. But as the pandemic goes on, so does the financial crisis our community faces. Each day, more and more people call JFCS for help.
Mark says, "It's amazing to have somewhere to turn to that can help with not just one just aspect, but multiple aspects of my life. The JFCS community has touched generations of my family."
If you or someone you care about needs financial—or physical, emotional, spiritual, or practical assistance—please call the JFCS Bay Area Critical Help Line at 415-449-3700.
---
­­­­­­­­­­­­­­­Learn more about the comprehensive support available through JFCS' Financial Aid Center >
To help a family like Mark's get back on their feet during the pandemic, donate to JFCS' Community Emergency Fund today >
---
Posted by Admin on October 14, 2020