PEERS® Social Skills Training Program for Young Adults
JFCS's Shupin Community is offering a new program, PEERS® for Young Adults.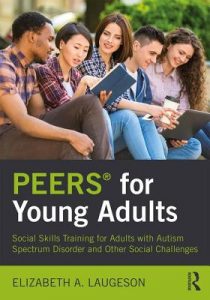 PEERS® for Young Adults is a 16-week, evidence-based, social skills intervention for motivated young adults between 18 and 38 years of age who are interested in learning skills to make and keep friends and develop romantic relationships. This internationally acclaimed program was originally developed at UCLA by PEERS® Clinic Founding Director, Dr. Elizabeth Laugeson.
Social Skills Training for Neurodivergent Young Adults with Autism and Other Developmental Disabilities
Shupin will offer the complete PEERS® social skills training course for neurodivergent young adults with autism and other developmental disabilities. During each group session, participants will be taught important social skills and given the opportunity to practice these skills.
Young Adults will learn about:
Conversational Skills
Appropriate Use of Humor
Electronic Communication
Handling Direct and Indirect Bullying
Handling Arguments and Disagreements
Organizing Get-Togethers with Friends
Dating Skills
Strategies for Handling Sexual Pressure
PEERS® may be appropriate for young adults with Autism Spectrum Disorder, ADHD, Anxiety, Depression, or other social and behavioral disorders. Young adults in the program must be socially motivated and attend each session with a social coach.
What are the participation requirements?
Young adults who have struggled with finding and maintaining friendships in the past
Young adults ages 18 – 35 years old; graduated from high school
Young adults must be interested in attending the program
Young adults must consistently attend the program on a weekly basis
Young adults must agree to participate voluntarily in the program
Young adults must have a consistent social coach willing to attend the program each week
All participants must have a social coach who simultaneously attends mandatory social coach sessions while the participant attends the PEERS sessions. Social coaches can be parents, close friends, or staff members who will support the participant with social skills practice, course assignments, and encouragement to engage in the course content.
The program requires a time commitment of 1.5 hours per week for the participant and the social coach. Both parties must attend in-person PEERS® sessions in order to participate.
The Shupin Community PEERS® for Young Adults course will be offered some time later this year.
If you are interested in participating, please submit this form.
Application Form