Young Leaders Find Community, Give Back, and Help Shape the Future of JFCS
Jewish identity is changing in America, and that's especially true for many Bay Area Jews in their 20s, 30s and early 40s, some of whom are recent transplants with busy careers.
So how are these millennials finding meaning in being Jewish today? JFCS has four different programs that answer this very question.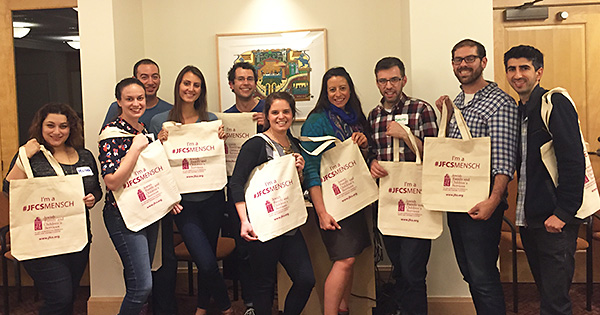 Young Professional Community Connection: Behind the Scenes
Amanda Merriweather, a technology company recruiter in her twenties, volunteers every month through JFCS' Young Professional Community Connection.
"For me, the community around the culture is how I connect with Judaism," says Amanda. "The opportunity to give back with like-minded people is one way to build that community."
In less than a year since its inception, Amanda and more than a hundred other young adults have come seeking hands-on volunteer opportunities and an inside look into JFCS' programs. Volunteer activities have included social interaction and dinner with Holocaust survivors, career coaching with JFCS' YouthFirst teen participants, and cooking nights with young adults with developmental disabilities taking part in JFCS' Gary Shupin Independent Living Community.
One of Amanda's favorite experiences has been the monthly [email protected] Club, where volunteers get together and bake for homebound seniors. The highlight for Amanda is delivering the delicious bread to her "challah buddy" Agnes, a Holocaust survivor who lives in her neighborhood.
RJeneration: Connections for Russian-American Jews
For Irina Berkon and Lenny Semis, a couple in their thirties, they say being Jewish is important to them but, with busy professional lives and a young child, it's a challenge.
"How do we raise our child with a sense of Jewishness? We were looking for a way to bring it all together—values, education, religion, history, and holidays," says Irina, who also serves on JFCS' Emigre and Finance Committees.
The couple now relishes being a part of JFCS' RJen Community, a program for those in their twenties to forties who emigrated from the former Soviet Union as children. "RJeners" come together for volunteering, Shabbat dinners, film and book discussions, and more. This past Passover, for example, Lenny, Irina and their daughter, Isabella, participated in the RJen Family Seder.
Masha Gutkin, Director of Emigre Development, organizes RJen gatherings and says for Russian-speaking Jewish "hybrids," the group provides lasting connections. "We want to have the opportunity to feel a connection, to one another and to the larger Jewish community—and to know that there is a community that takes care of each other."
New Leaders Council: Nurturing Future Leaders
When Isaac Guttman, 24, first moved to San Francisco from Cincinnati in 2015 he was looking to make a difference and gain a sense of community. The New Leaders Council, which debuted last fall, was just what he was seeking.
Isaac, who works in public policy, says he finds it gratifying to dive deeper into JFCS' mission and programs, including the chance to give input into the organization's strategic plan.
"I feel like a regular now when I come to JFCS' offices," says Isaac. "Even though JFCS is a large nonprofit, it has those elements of warmth and familiarity. And being involved makes me feel like I am living out the Jewish values I grew up with."
3gSF: Grandchildren of Holocaust Survivors Unite
Grandchildren of Holocaust survivors (3Gs) are connecting with purpose and exploring their shared heritage through a community program of the JFCS Holocaust Center called 3gSF.
"We're a social group to explore our identities, but it's also a place to come together and ask ourselves what kind of impact we want to have in the world," explains Zoe Goldfarb, the forum's chair.
3gSF members meet quarterly for social events that connect them to their shared heritage. The group also volunteers with local survivors and, most recently, organized an interactive art project at San Francisco's Yom HaShoah Commemoration.
Creating Opportunities for New Leaders
By volunteering, exploring their cultural identity, making lasting friendships, and voicing their unique perspectives, young Jewish professionals are stepping up in a big way at JFCS.
"We're creating the pipeline for our next generation of leadership," says Miriam Markowitz, Director of Nutrition Programs.
"Giving back to the community, service to others, care of people in need—all of these are values in Judaism. Whether religious or not, these programs create meaningful ways for young people to re-identify with our shared beliefs."
Find out more and get involved with the Young Professional Community Connection, New Leaders Council, RJen Community, or 3gSF >

To donate to JFCS' volunteer and young leadership programs, please contact Barbara Farber at [email protected], 415-449-3858, or click here to give online.
Funding for JFCS' volunteer and young leadership programs is provided by generous individuals and foundations and 3gSF is partially funded by the Mitzi & Adolf Wilner Memorial Fund.
---
Posted by Admin on June 7, 2017