Sweet Success: Women-Owned Businesses Make Big Gains with JFCS Loans Program
Artisanal food products—everything from the tastiest mandelbrot cookie imaginable to the most delicious small-batch jams—are more popular than ever in the Bay Area, but did you know that since day one—that's almost 170 years ago—JFCS has been supporting just these types of small businesses?
It started with revolving loans funds. After the Gold Rush generous donors wanted to help entrepreneurial Jewish individuals specifically for one purpose: to make it possible to grow a small business, especially for those who typically would not otherwise qualify for bank loans.
Barriers for Women in Business
We've come a long way since the early days of JFCS. Female entrepreneurs are experiencing unprecedented success. In fact, 40% of all new businesses in 2016 were majority-owned female companies.
And even though studies show female business owners are more optimistic about the growth of their enterprises compared to male counterparts, they start with less capital overall, receive fewer and smaller loans, and get higher interest rates on the loans they receive compared to male business owners.
Investing in the Community
Take Marlo Gertz of Marlo's Bakeshop. She recently received a JFCS business loan to expand her operations.
In 2013, when Marlo was 25, she launched a food business to bring her grandmother's secret mandelbrot recipe—an innovative cross between a soft-baked cookie and a classic biscotti—to the public.
Marlo appreciated the low-interest rates and generous repayment terms of the JFCS Business and Professional Loans Program.
"My JFCS loan was certainly attractive compared to what a bank would offer," she says. "And I also really liked that the interest I'd be paying would go back to other Jewish people in our community."
Today Marlo's Bakeshop products are sold nationwide and she is on track to have her products sold in several major grocery food chains by later this year.
Taking the Plunge
Dafna Kory is another local food entrepreneur who was helped by the JFCS Business and Professional Loans Program.
In 2010 Dafna took the plunge and founded INNA jam, a small business using fresh organic fruit sourced within 150 miles of her kitchen. Dafna soon realized she had created something special. And so did her customers.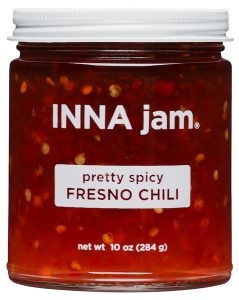 By 2012 INNA jam sales had doubled. Dafna wanted to expand operations and build a commercial kitchen, but the initial capital needed to grow her business was daunting.
Food industry businesses like Dafna's and Marlo's are often denied bank loans because growth is slow and competition in this area is fierce.
It was a business loan from JFCS that allowed Dafna to grow. Today, INNA jam employs four full-time workers to produce over 20 different seasonal products.
JFCS' track record for supporting successful businesses has been impressive, receiving an exceptional 99% repayment rate over the last 15 years.
Dafna has already repaid her loan, and today INNA jam is sold nationally.
Boosting the Local Economy
For Dafna the community aspect of her business is of utmost importance. She hires locally in the community, and sources produce from local farmers. JFCS, she says, was a natural fit for her business model.
"Working with a community lender fits my mission of really being based in the Bay Area," she says.
"By supporting my business, not only is JFCS supporting my one small business—it's also supporting the local community and economy, organic agriculture, and other artisan producers."
Taking a Bet on Deliciousness
For Dafna the impact of JFCS investing in her business goes beyond the loan.
She says JFCS has been right beside her with financial support, and paired her with a volunteer who offered expertise to finesse her business model.
"Like many small food producers, when I was starting out I was pouring everything I had into the business. A traditional lender wasn't going to take a bet on me. But JFCS did."
Michelle Lamphere, Director of JFCS' Financial Aid Center, adds, "We believe in Marlo and Dafna because they're both savvy, strong business-minded CEOs who have gained the respect of the food industry. Their products sell well because, well, they really are delicious."
Support Beyond Loans
Business loans are just part of the work of JFCS' Financial Aid Center. It also provides educational loans and scholarships, and helps to send children to Jewish summer camps and programs in Israel.
Partial funding for JFCS' Business and Professional Loans Program is provided by generous individual support, foundation grants, and named endowment funds.
If you would like to make a donation, please contact Barbara Farber at [email protected], 415-449-3858, or click here to give online.
---
Posted by Admin on March 13, 2018