3rd Generation Assumes Mantle of Preserving Survivors' Stories
JFCS in the Media
Holocaust Center
Volunteers
J Weekly
By Rob Gloster
Berta Kohut endured more than 1,000 days at Auschwitz. She suffered through transfers to Ravensbruck concentration camp and the Birkenau death camp.
Having somehow survived and started a family back in her native Czechoslovakia, the last thing she wanted to do was tell her two sons about those horrors. But when her seven grandchildren were old enough to understand, she shared her Holocaust nightmares.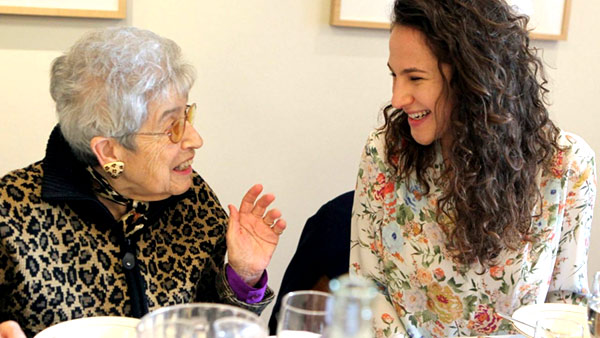 "When I was growing up, it was a taboo subject in our family. My father protected her from talking about it," said her son, Tom Areton. "It's easier for her to talk to the grandchildren."
For many grandchildren of Holocaust survivors, their bonds with saba and savta are based in part on those shared accounts — the same ones that were too raw for the survivors to tell their own children. The passage of time, and the realization that their stories might die with them, often made it easier for them to open up as they aged.
The grandkids, recognizing that special relationship and wanting to share such stories with their peers, have in several large U.S. cities created 3G groups — so named because they're the third generation. In San Francisco, 3gSF was created in 2013 through the Holocaust Center at Jewish Family and Children's Services.
---
Posted by Admin on April 19, 2017