Grandchildren of Holocaust Survivors Unite!
Education
Holocaust Center
Volunteers
A Legacy of Remembrance and Resilience
To an observer, Zoe Goldfarb (center) and her peers look like any other group of young professionals when they get together—telling stories, sharing a meal, and catching up on each other's lives. But this group, called 3gSF, has something very important in common. They call themselves "3Gs"—as in third generation—and they are all grandchildren of Holocaust survivors.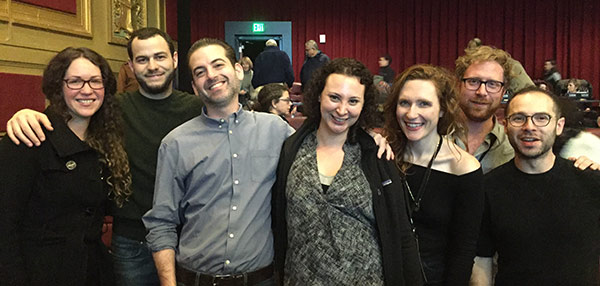 Living Links between Holocaust Survivors and Future Generations
"3G is the bridge generation," says Morgan Blum Schneider, Director of Education at the JFCS Holocaust Center, noting that they are the ones with personal relationships with both the survivors and future generations which will not have first-hand experience with those who lived through the Holocaust and rebuilt their lives.
Growing up, they all felt that they learned inimitable and significant lessons from their parents and grandparents and now feel passionately about sharing their unique and vital point of view. The group participates in important discussions about how the JFCS Holocaust Center can tell the stories of survivors in the future.
"We're a social group to explore our identities but it's also a place to come together and ask ourselves what kind of impact we want to have in the world," says Zoe.
A Space to Explore Identities and Family Histories
3gSF members meet quarterly for events such as outings to the San Francisco Jewish Film Festival, dinners with local survivors, and guided tours of the Contemporary Jewish Museum. Crafted by an eight-member leadership team, the events always include meaningful ways for 3Gs to unite around their shared heritage.
The forum has also led members to find out more about their family histories through the JFCS Holocaust Center's Tauber Library and Archives.
Members have the opportunity to share the unique lessons they learned from their grandparents and discuss often-complicated and difficult family histories. This group offers something that members can't get anywhere else—understanding from peers who have walked in their shoes.
Zoe Goldfarb initially formed the group in 2013 in partnership with the JFCS Holocaust Center. She had recently met grandchildren of survivors based in New York when she was in Poland for the March for the Living, an educational program to explore her Jewish identity and Holocaust-era family history.
Zoe, who became the San Francisco-based forum's first chair, says, "Even just knowing about the term '3G', knowing that I have peers out there who share this common identity, has been comforting and eye-opening."
3Gs range in age from their early 20s to early 40s and live all around the Bay Area. Although they are busy professionals, and many now have families of their own, they make it a priority to get together.
Morgan says, "There's so much richness in creating a sense of community in-person: having organic conversations, laughing together, crying together, sharing a meal." 3Gs also have an active Facebook group that connects over 100 members online.
Volunteering with Local Survivors
A highlight for members is JFCS' yearly Cafe by the Bay Hannukkah party where members serve food, sing, share traditions, and schmooze with local survivors.
Members gather with survivors on other important days too, like Passover and Yom HaShoah. Many have grandparents who are no longer alive or, if they are, live far away. And for the survivors, they say these events provide a special opportunity to see that this younger generation cares and wants to keep their memories alive.
A Legacy of Remembrance
Susan Wilner Golden, a member of the JFCS Holocaust Center's Children of Survivors Council and the mother of two daughters, conceived of the idea and vision for a Bay Area 3G with Morgan Blum Schneider in 2012 and says, "As I saw fewer survivors with each passing year, I wanted to find a way to support and empower this younger generation, as they will be the stewards of their grandparents' legacy."
With funding from the Mitzi and Adolf Wilner Memorial Fund, established by Susan in honor of her parents, and the help of the JFCS Holocaust Center, the group is thriving.
Before her passing Susan's mother, Mitzi, spoke to countless school children as part of the JFCS Speakers Bureau about her experience, and the need for moral courage and activism. "She always spoke of carrying on the values and importance of perseverance, resilience, of never giving up hope," says Susan.
And now that opportunity and responsibility to carry on these stories of Holocaust survivors is in the hands of their grandchildren.
Join Us!

The 3gSF group will continue to expand its membership and programming in 2017. On the agenda is an exploration into storytelling. The future may include members of 3gSF sharing their family stories in our community, and representation of the third generation on the JFCS Holocaust Center's Children of Survivors Council, helping to shape the future of Holocaust education, research, and remembrance.
Learn more about 3gSF and the JFCS Holocaust Center >
To donate to this program, please contact Barbara Farber at [email protected] or 415-449-3858.
Funding for JFCS' 3gSF is provided by generous individuals and foundations, including the Mitzi and Adolf Wilner Memorial Fund.
---
Posted by Admin on March 5, 2017