3 Meaningful Ways You Can Help Create a Sweet New Year for All
Holidays
Nutrition Program
Volunteers
Apples dipped in honey, round loaves of challah, honey cake: just some of the special foods we eat on Rosh Hashanah that signify our hope for a "sweet new year." But for many JFCS clients, the holiday isn't often very sweet.
Together—with your help—we can make sure everyone in our community feels the joy of the High Holiday season!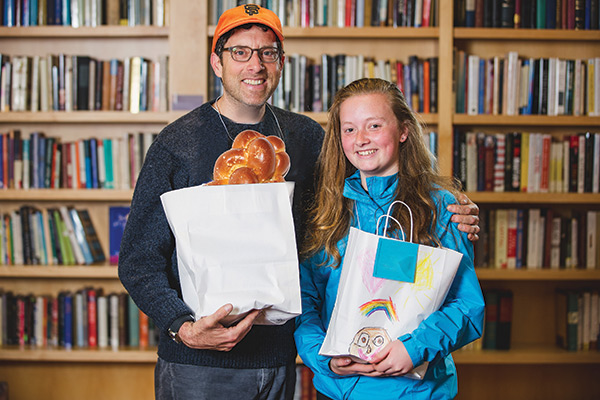 Here's how you can help:
Assemble and Delivery Rosh Hashanah Food Packages
We are currently looking for volunteers to assemble and deliver Rosh Hashanah foods for seniors, immigrant families, people with disabilities, and other families in need."
This special food delivery makes the people we visit feel part of a family," says Laura, a volunteer in San Francisco. "For me, this holiday is about bringing our community together and this is a fun way to give back. It's become a tradition I look forward to each year."
You can volunteer alone or bring your children, grandchildren, or friends to help. It's a wonderful opportunity to make Rosh Hashanah more joyful and meaningful—for you and for those you visit.
Check out our Events Page for upcoming opportunities.
Looking for other ways to get involved? We are also looking for help with the following:
Participate in Our Food Drive
Our Annual High Holiday Food Drive ensures that those in crisis have food on the table all year long.This year we plan to collect seven tons of food, or 20 percent of the food JFCS distributes yearly, for our Food Pantries in each of our five regions.
But we can't do it without you.
You can help make sure our pantries' shelves are well stocked. It's as easy as filling a bag with nutritious foods and basic household goods and dropping it off at location convenient near you.
Drop off food and toiletries in JFCS Collection Barrels throughout San Francisco, Marin and Sonoma Counties, and on the Peninsula, from the end of September through mid-October. Find a location  >
Sponsor a Rosh Hashanah Delivery
Consider a "Chai" donation ($18) to help us fill a bag of holiday treats, or $36 for two!  Donate here and designate your gift to Food Pantry.
---
Posted by Admin on September 12, 2016