Three Volunteer Opportunities to Help Make the Holidays Brighter for Clients in Need
For many of us, the holiday season is a time of comfort, celebration and joy. But for individuals and families in need, this time of year can prove particularly difficult or lonely.
JFCS volunteers are gathering together to lovingly provide gifts, meals and comfort to the members of our community who need it most.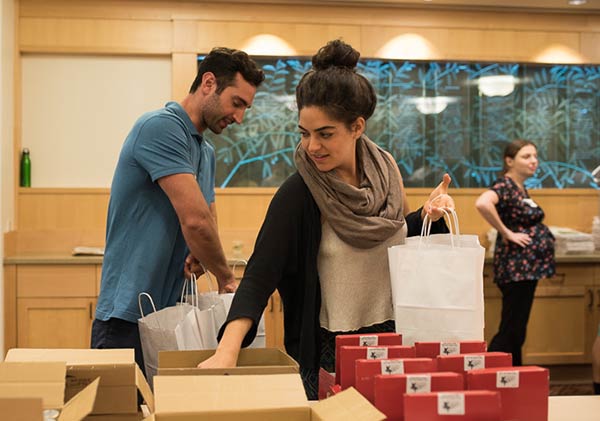 If you're looking to give back this holiday season, join us for any of three festive volunteering opportunities that everyone in the family can take part in.
Volunteer Thanksgiving Weekend at St. Anthony's
Did you know that one in five adults in San Francisco struggles to provide food for themselves or their families? This Thanksgiving weekend, you can join JFCS volunteers in serving these individuals and families at St. Anthony's Dining Room, one of the Bay Area's largest community meal programs.Anyone over age 15 is welcome to volunteer, and spaces are filling up quickly. Sign up today!
Hanukkah Holiday Bag Assembly & Delivery
Help us light up Hanukkah for hundreds of JFCS clients by assembling and delivering holiday bags to seniors, people with disabilities and families in need in your local area. Bag Assembly days are a fun-filled way for the whole family to volunteer together.Assembly and Delivery days are taking place in five locations across the Bay Area, so you can be certain to find an event close to home. Sign up to Assemble and Deliver Hanukkah Holiday Bags Now

Prepare and Deliver Meals with Project Open Hand
On Christmas Eve and Christmas Day, JFCS will join with Project Open Hand to cook up holiday meals and bring them to our clients with HIV and other chronic conditions.Join us in preparing and delivering meals with love to provide both nutrition and holiday cheer to our critically ill neighbors and friends.
It is because of our amazing volunteers that JFCS is able to provide this extra support to our most vulnerable clients during the holidays and throughout the year.
There are many opportunities to volunteer with JFCS that suit your particular interests and schedule. Find out all the ways you can volunteer and make an important difference in the community.
---
Posted by Admin on November 4, 2015