A Shupin Community Role Model: Weatherman Jordan Darensbourg
Stories & Testimonials
People with Disabilities
When several members of the Shupin Social Club were curious about climate change and the floods we were having this past winter, the Shupin Community was inspired to host an event to learn about the weather. A bit of creative Googling yielded a surprising gift: a neurodivergent weatherman in Texas.
Meteorologist Jordan Darensbourg is a living example that neurodivergent kids can grow up to be whatever they want to be. Jordan has Asperger's, which is a rare form of autism, and he uses this diagnosis to inspire others to go after whatever it is they set their mind to.
"I'm just forever blessed to do what I love to do despite the challenges. I'm saying 'challenges' but I believe autism to be a superpower. Despite everything, I'm doing everything I love to do and you can too," he said in an interview last year.
Jordan began his career in 2018 as a morning meteorologist in Clarksburg, West Virginia. His love of weather started early. Instead of cartoons and other kid shows, Jordan watched the Weather Channel in his childhood home in Georgia. Jordan was fascinated by storms, especially lightning, even though it scared him. Fitting for the man who is now part of the KVUE Storm Team in Austin, Texas, where he covers major weather events.
For Jordan, it's been a continuous learning curve every day. "What I've learned about my Asperger's is that I've really had to think about, what does the world feel like and what does the world think like because a lot of times, people on the spectrum, we like to think about the opposite of that," he said.
Jordan didn't talk until he was three years old. He was diagnosed with PDD-NOS just before his third birthday. When he turned nine, doctors gave him a formal diagnosis of Asperger's. In middle school, kids called him names like 'retarded.' He refused to get frustrated and would laugh at his detractors in response. He worked hard and ignored the bullies, and went on to achieve bigger and better things.
Jordan graduated with a Bachelor of Science in Meteorology from Jackson State University and received a Bachelor of Arts in Communications with a broadcast emphasis from Mississippi State University. He is a member of the National Association of Black Journalists' Weather & Climate Task Force and the American Meteorological Society.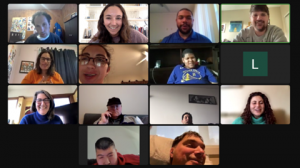 During Shupin Social Club's Let's Learn About Weather! event in February, Jordan spoke to the group about weather patterns and climate change, and answered attendees' questions. It was a wonderful opportunity to introduce our Shupin Social Club members to someone in their community who is very knowledgeable about a topic of interest to them and is a role model for pursuing personal goals and achieving professional success.
Jordan Darensbourg is dedicated to inspiring others with autism and other developmental disabilities. He regularly speaks at events and makes himself very available to any neurodivergent fans who want to connect. You can follow Jordan on Twitter and Instagram @jdarensbourgwx. He's even on TikTok!
---
Posted by Admin on May 15, 2023