Mental Health Services for All Ages Expand at JFCS
Counseling & Mental Health
Stories & Testimonials
Susan was sandwiched by family mental health issues. Her father, Mike, had suffered from depression his entire life and now at age 78, was experiencing early signs of dementia. At the same time, Susan's 12-year-old daughter, Georgia, started to display some concerning behaviors—she wasn't sleeping, she felt unable to eat, and she started isolating herself from her friends. Susan was overwhelmed by worry as she tried to help her father and daughter through their symptoms, and began to feel alone and hopeless.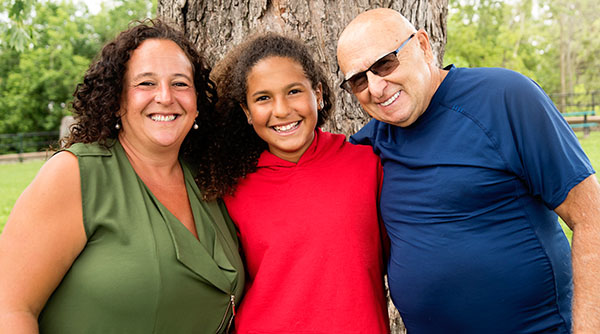 A friend suggested that Susan reach out to JFCS to talk to a therapist about her stress. When Susan called, a warm wave of relief washed over her as she discovered that JFCS could offer mental health services to her entire family.
Mental Health is a Second Pandemic
Thousands of children, teens, and adults received therapy and critical mental health services from JFCS last year. In the wake of the COVID-19 pandemic, more and more people are calling JFCS every day for help.
According to Ellie Pelc, PsyD, Child Psychologist and Associate Clinical Director for JFCS' Center for Children and Youth, the important thing is to reach out for help if you or a loved one is experiencing feelings of overwhelming stress, anxiety, depression, or other mental health challenges.
Dr. Pelc says, "We see clients of all ages. It's important for those struggling to know that talking to a professional can be vital in coping with stressors, transitions, or any of life's challenges."
Help for All Ages
Susan and her father were relieved to meet with Dr. Catherine Madison, Neurologist at JFCS' Center for Dementia Care, to do a cognitive evaluation and create a plan that would help them navigate the years to come. Mike also began working with a JFCS psychologist, who has been able to support him with his long-standing fight with depression.
Georgia was matched with a caring child psychologist at JFCS' Center for Children and Youth, who helped get to the root of her anxiety, providing guidance, support, and a safe place to share her feelings.
"We just kept trying to deal with things on our own," Susan says. "We never thought we could find all of this help in one place and we are so thankful for JFCS' support."
JFCS is here for your family, always. If you or someone you care about needs help, please call us at 415-449-3700.
Learn more about JFCS' Mental Health services >
Learn more about JFCS' Center for Children and Youth >
Learn more about JFCS' Seniors At Home >
---
Posted by Admin on November 16, 2021