Leading the Way to a New Jewish Path for Healing After Pregnancy Loss
Grief & Bereavement
Parenting
While Judaism offers beautiful lifecycle traditions and rituals for those who are grieving, Jewish customs for pregnancy and infant loss are only now catching up with modern times.
Up to one in four women in the U.S. will experience at least one miscarriage, and many others will experience a stillbirth or infertility at some point. The rates are even higher in the Bay Area where many delay starting a family until later in life.
When this kind of devastating loss occurs, women—as well as their partners, families, and friends—have historically been left without a clear Jewish path for rituals, support, and guidance to respond to the gravity of their grief.
Two Bay Area women have mobilized the Jewish community to better help families after pregnancy loss, miscarriage, or infant death. Jewish Family and Children's Services and Sinai Memorial Chapel are now working together to help.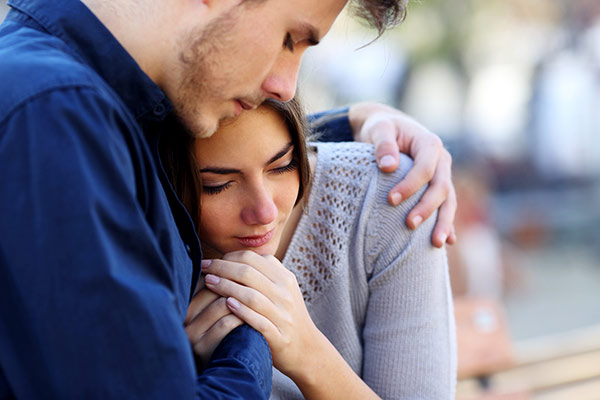 Experiencing a loss and finding a need
When Abby Porth experienced a miscarriage, her grief was palpable. Feeling isolated and alone, she decided to reach out to other Jewish women who had gone through similar experiences. One of those women was Debbie Findling.
Together, Abby and Debbie realized a community-wide effort with Jewish organizations was needed so those suffering could gain access to therapists and spiritual leaders for support with this unique type of grief, and so families would have a meaningful place to go to grieve and heal.
The changing nature of Jewish mourning rituals
Rabbi Daniel Isaacson, Director of Spiritual Care Services at JFCS, oversees JFCS' Bereavement and Healing Services and was touched by Abby and Debbie's work to raise awareness about miscarriage and baby loss.
He says, "Jewish mourning rituals of the past have left families who are experiencing pregnancy loss to grieve in a kind of vacuum. If the mother and family experience the death of a baby as a tragedy, then Jewish tradition should consider it a tragedy as well."
In the past Judaism did not consider a baby who died before its thirtieth day of life to be a "full-fledged" person. The baby would be buried in an unmarked grave and the rituals that help families through grief were not available to them. In contrast, if a child died after thirty days of life, the family would go through all of the rituals associated with Jewish burial and mourning. Jewish law established this time frame for human "viability" because of the high mortality rates that were common in past centuries and as a way to protect the mother from being in a perpetual state of mourning.
The Jewish community comes together to help fill a void
Abby and Debbie met with Samuel Salkin, Executive Director of San Francisco's Sinai Memorial Chapel, about what can be done so that other Jewish families have an easier time seeking culturally sensitive support and guidance.
Salkin says, "Abby and Debbie have done an enormous service by taking a topic that was somewhat in the shadows and bringing it into daylight. They have opened up a community conversation with agencies, rabbis, synagogues, and media so that we can all be more responsive to individuals and families at a very tender point in their lives. At Sinai Memorial Chapel, we have always viewed this type of loss as our community's loss of potential."
Rabbi Isaacson adds, "Parents suffering a miscarriage or infant death feel devastated and isolated enough as it is and I would like them to feel that their community is there to support them, and that it provides a vital space for them to find comfort."
"JFCS and Sinai Memorial Chapel recognize the extraordinary impact they can make in the lives of individuals grieving from fertility losses," says Abby. "With expert social services and knowledge of the rich and vibrant customs of Judaism, they are helping to fill a major void in our community."
Access to therapists, spiritual leaders, and support
Abby knows firsthand that women typically have their first interaction regarding the loss with their health care provider. Many of those providers want to offer their patients culturally relevant resources for support, but usually do not know about Jewish customs.
Working in tandem, JFCS and the Sinai Memorial Chapel staff understand the complexities of the issues.
JFCS' clinical staff understand the complexities of miscarriage and baby loss and appreciate the challenges parents might face when turning to the Jewish community for help. JFCS offers two sessions of bereavement support with its expert clinicians at no charge for those in the community who need it after a loss, including a pregnancy loss.
Sinai Memorial Chapel offers a Mourner Care Program that provides practical case management and a listening ear to help with physical and financial needs, and frequently refers clients to JFCS for those who would benefit from additional support to explore the emotional, spiritual, and psychological aspects of the grieving process in a safe and empathetic environment.
The Memory Garden: a sacred garden to honor pregnancy and fertility loss
With Abby and Debbie's work to mobilize the community, has come an enormous response of compassion and enthusiasm. The pair has spearheaded the creation of the world's first Memory Garden, a space where those who have experienced these kinds of losses can come to reflect, meditate, and mourn.
"There was an incredible sense of isolation in my moment of loss," Abby says. "It would have been exceptionally meaningful to have some kind of physical Jewish space—such as a cemetery—where the loss wouldn't have felt disjointed from my community."
Abby and Debbie are now busy working mothers who are watching their children grow and thrive. But they are also seeing their idea of a special place to mourn coming to fruition. Ground has broken on the Memory Garden, located at Sinai Memorial Chapel's Eternal Home Cemetery in Colma, and the garden is expected to be completed in early 2020. It will be open to all who seek a place of comfort.
"Our vision is to change how Jewish women experience fertility loss," says Debbie. "We aim to create and embrace thousands of Bay Area Jewish women at a moment of tremendous vulnerability and need."
If you or someone you know has experienced a pregnancy or baby loss, click here for help >

Partial funding for JFCS' Grief and Bereavement Services is provided by individuals and foundations. Special support for bereavement groups is provided by Sinai Memorial Chapel.
If you would like to donate to this program, please contact Barbara Farber at [email protected] or 415-449-3858.
---
Posted by Admin on January 9, 2017