Lifting the Fog: JFCS Helps Treat Depression and Anxiety for People of All Ages
Feeling down every so often is a normal part of life. Day-to-day worries are common and can be perfectly normal—who among us hasn't struggled with bumps in the road? But for anyone experiencing unrelenting sadness or anxiety, it might be time to think about getting help, and JFCS has exceptional mental health professionals who support people of all ages.
Whether it is a major life event like a divorce or loss of a loved one, or another underlying stressor, both depression and anxiety can be devastating and may get worse if untreated. The good news is that, with proper care, life can significantly improve.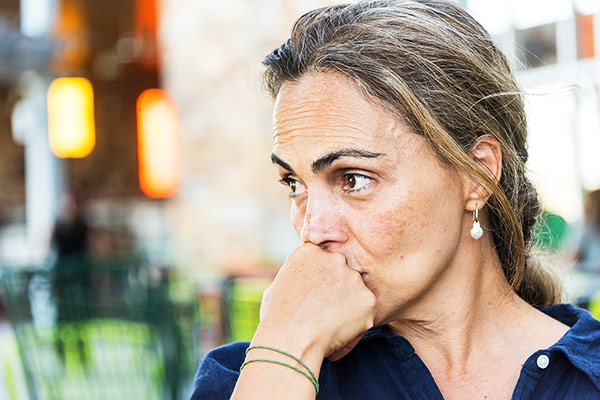 Beth Berkowitz, Psy.D, JFCS' Director of Children's Clinical Services, says support for depression or anxiety can come from many sources and suggests that reaching out to trusted friends, relatives, or clergy can be a good first step to seeking help. She adds, "It's also important to know that JFCS has many experienced professionals and one of them might be a good fit for a one-time consultation or ongoing therapy."
Specialized Support for Children and Teens
Although depression and anxiety can affect anyone at any stage of life, Beth has been particularly struck by what she sees as an increase in anxiety in children and adolescents. She says, "The pressure to succeed, particularly in the Bay Area, is intense, and kids even as young as 10 now are bombarded with the images of their peers' successes in very deliberate ways, causing distress for many."
Parents Place, JFCS' program serving children, teens, and parents in five centers throughout the Bay Area, is not alone in seeing an increase in mental health needs for children and teens. It mirrors a growing national trend where many kids are suffering. Sadly, 80 percent of kids with anxiety disorder and 60 percent of kids with depression don't receive the treatment they need.
Parents Place offers a unique children's services approach, providing each family with a team to find the right treatment. Beth says, "It's often unclear why a child is struggling until a full picture is gathered, so that's why we are staffed with parent educators, psychologists, social workers, and occupational therapists who work together to help families find the right fit and plan for their child and themselves."
Treatment Tailored to Adults
Sometimes busy adults put their mental health last on a long list of priorities—after career, children, or family care. It may be an unexpected crisis or a life transition that puts focus on a need for more support. Whether it's a job change, the end of a relationship, a death of a family member, or a move to a new city, JFCS's counseling services provide the necessary empathy and support to weather the storm.
JFCS' clinicians are knowledgeable about the best practices in the mental health field and take a practical approach to helping clients with their particular concerns. JFCS' team includes licensed clinical social workers, marriage and family therapists, psychologists, and psychiatrists.
Mental Health Issues May Look Different for Seniors

Traci Dobronravova, MSW, Director of JFCS' Seniors At Home says that loneliness and depression are chief among the most serious conditions seniors face. Our clients are routinely screened for depression and anxiety so that those who are struggling aren't overlooked.
Signs of a mental health issue may manifest in older adults in different ways, and Traci notes, "Seniors may think that what they are experiencing is normal, but when they lose their appetite, energy, and interest in their favorite hobbies or activities it can be a sign that something might be wrong."
Taking the First Step
JFCS offers individual and family counseling. Most insurance companies offer reimbursement for services.
The first step is to contact one of our friendly intake counselors, who will speak with you and pair you with a counselor who can respond with compassion to your specific needs.
"Making that first call can be tough when you are already feeling so low or overwhelmed," says Beth, "But extra support is here at JFCS, whether you are a senior, an adult, or parenting a child. Everyone needs some extra help sometimes."
Learn more about JFCS' Parents Place Program >

Learn more about JFCS' Individual Counseling >
Learn more about JFCS' Seniors At Home Program >
JFCS' Parents Place Program, Individual Counseling Services, and Senior Services are partially funded by generous individuals and foundations whose support helps those who can't afford the full cost of care.
If you would like to make a donation, please contact Barbara Farber at [email protected], 415-449-3858, or click here to give online.
---
Posted by Admin on February 9, 2018