JFCS—A Global LGBTQ+ Adoption Leader and Changemaker for Over 30 Years
While the road to equality for those who identify as lesbian, gay, bisexual, transgender, or queer (LGBTQ+) has been a long one, for over 30 years JFCS has been breaking ground by supporting families of all kinds to grow their families by adoption. JFCS continues to work and advocate for LGBTQ+ adoptive families' legal rights—both in the United States and in Israel.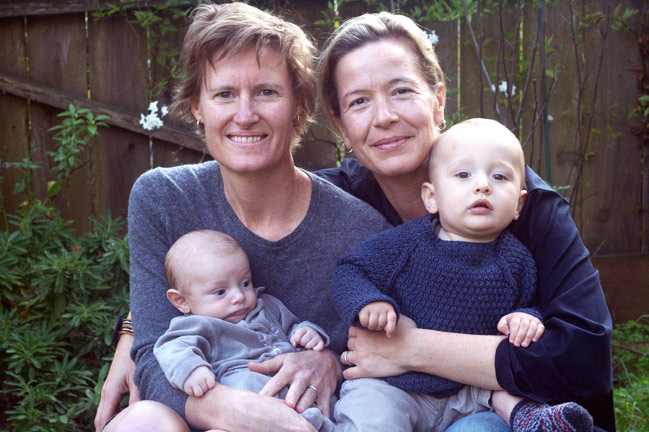 JFCS' Adoption Connection Receives Prestigious Award from Human Rights Campaign (HRC)
Back in the 80s, while the public and elected officials were busy debating the merits of adoptions by queer families, JFCS' Executive Director Dr. Anita Friedman began work on creating the first private adoption agency in the country to help all hopeful individuals and couples become parents. Adoption Connection completed its first open infant adoption placement with a gay couple in 1993.
The adoption agency has since been on the forefront of LGBTQ+ adoptions, and recently was awarded the Human Rights Campaign's All Children All Families Seal of Recognition for supporting and servicing LGBTQ+ families. The agency received its first HRC seal back in 2014 soon after the civil rights organization began to promote cultural competency among child welfare agencies.
According to the Williams Institute, today same-sex parents raise 4% of the children adopted in the United States—one in 25.
JFCS Pressures Israel to End Discriminatory Adoption Policies
Although LGBTQ+ families can now legally adopt in all 50 states in the U.S., queer families in Israel still face striking discriminatory adoption procedures, putting these families at the very bottom of the list for adoption placements.
Last July JFCS joined nearly 200 Jewish community leaders from across North America in coming together to show support of LGBTQ+ families in Israel and to put pressure on government leaders to change their stance on same-sex adoption.
JFCS played a pivotal leadership role in assisting with the public letter disseminated by LGBTQ+ organization A Wider Bridge. It stated Israel has become a leader in many areas of LGBTQ+ equality and urged the Israeli Ministries of Justice and Social Affairs to rectify the "glaring exceptions" in the adoption process.
On September 17, during a hearing at the High Court of Justice, it was announced that Israel was committed to introducing legislation that would equalize the adoption rights of same-sex couples by June 2018. Justice Esther Hayut said that the state "has lifted its harmful stance (on same-sex adoption)." Read the full article detailing the announcement >
Friedman is encouraged with the change of position and says, "JFCS has always known that there are many important qualities that lead to strong, well-adjusted families—but the sexual orientation of parents is not among them."

Find out more about JFCS' LGBTQ+ Services >

To donate to JFCS' LGBTQ+ Services, please contact Barbara Farber at [email protected], 415-449-3858, or click here to give online.
Funding for JFCS' LGBTQ+ Services have been provided by generous individuals and endowed funds at JFCS.

---
Posted by Admin on January 9, 2018