Heroes of JFCS: Zhenya Friedman Takes Care of the Emigre Community
Heroes of JFCS
Nutrition Program
Seniors
Zhenya Friedman believes that the line between giving and receiving is very thin. For over a decade, Zhenya has dedicated her time to volunteering and helping others, and in that time she has touched countless lives with her warm presence and kind spirit. Yet Zhenya believes that she definitely gets back more than she gives.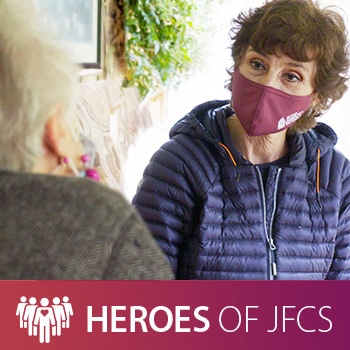 Originally from the Soviet Union, Zhenya volunteers mainly with JFCS' Emigre Services, supporting members of the Bay Area's Russian-speaking Jewish community. As a 'Master Volunteer,' she leads fifteen other volunteers with JFCS' Food Bank in Marin County. Somehow, in between coordinating deliveries, managing client requests and schedules, and delivering groceries herself, Zhenya also finds time to make Safe At Home calls to check in on our highest-risk seniors.
"For Russian speaking seniors, it's extremely hard, especially right now. They feel lonely—sometimes volunteers are the only people that they see and communicate with," Zhenya shares.
She is known to make extra visits to elderly clients, bringing them special food or sweet treats, simply because she cares. This also enables her to check in and spot any red-flags that would indicate additional assistance is needed.
"I call them, I deliver food, but the most important part is just visiting them—speaking in their native language, listening to their stories, and just being there as a human being."
Zhenya's leadership, as well as her caring nature, is what makes her a JFCS Hero.  Zhenya says, "We should take care of each other! This is the lesson that I want to share with others. I just do what I would want someone to do for me."
Watch Zhenya in action in the video below!
JFCS offers many meaningful opportunities to get involved! See our volunteer opportunities here >
Learn more about JFCS' services for our Emigre community >
---
Posted by Admin on May 18, 2021