Heroes of JFCS: Volunteer Suzanne Mankoff Helps Seniors Get the Lifesaving COVID Vaccine
Heroes of JFCS
Stories & Testimonials
Seniors
Volunteers
Hannah*, who is 82 and lives alone in San Francisco, was eager to get the COVID-19 vaccine so that she could go out and have some pieces of her pre-pandemic life back. But Hannah doesn't have wifi or a computer, and like many local seniors who lack access or familiarity with technology, she was unable to use the websites that California provided to book an appointment. Not only was her internet connection unstable, Hannah found the websites so confusing to use on her cell phone that she stopped searching altogether.  
Fortunately for Hannah, a volunteer named Suzanne Mankoff is one of the heroic JFCS community members who are stepping in and doing the tremendous legwork it can take to connect older adults to the lifesaving COVID-19 vaccine.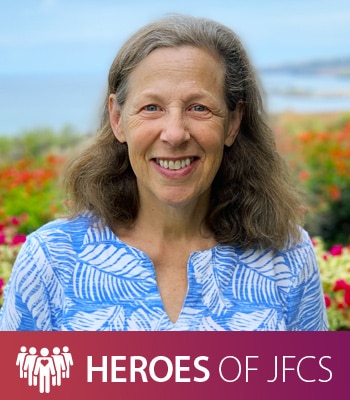 Navigating the Landscape
Suzanne, who for years has volunteered to support the most vulnerable in our community by making monthly deliveries to the JFCS Food Bank and visiting patients at UCSF Benioff Children's Hospital, was inspired to jump in to help seniors access the vaccine when she saw firsthand how her aging parents struggled with the technology needed to secure an appointment.  
"Navigating the landscape is the biggest issue," Suzanne says. "Seniors are pointed to a website, and if they don't understand how to use it it's really hard and frustrating. Some people just give up." 
Suzanne called Hannah to help her wade through her healthcare provider's online waitlist. They were over 2,000th in line, and spent hours on the phone together—only to be told there were no appointments left. But Suzanne says this time was not wasted. "It was clear that she was lonely and needed someone to talk to. COVID-19 has caused a lot of seniors to be isolated, and a simple phone call from someone who cares can be helpful in lots of ways." 
The Greatest Reward
Bringing patience and persistence to her all of her volunteer commitments, Suzanne kept working towards finding a vaccine appointment for Hannah. Finally, after several phone calls and online searches, Suzanne set Hannah up at a local pharmacy that was accessible to her. The reward for Suzanne was the phone call that came from Hannah after she got her first shot. Hannah was relieved, grateful, and most importantly, she was one step closer to no longer being isolated. 
Suzanne is still waiting to get the vaccine herself, but she dedicates her time to ensure that the vaccine is reaching those who need it most.  
"Volunteering has always been part of my life," she says. "I like to roll my sleeves up and help people: it's Tikkun Olam." 
JFCS offers a variety of safe and meaningful opportunities to volunteer. Volunteer today > 
If you or someone you care about needs help with food, financial assistance, senior care, or mental, emotional, or spiritual support, please call the JFCS Bay Area Critical Help Line at 415-449-3700. 
*name has been changed for privacy 
---
Posted by Admin on March 9, 2021