Futures Program Gives LGBTQ+ Seniors Peace of Mind
Healthy older adults are living longer in their own homes, but a sudden fall in the shower or an unforeseen diagnosis can thwart a senior's best-laid plans to age independently. LGBTQ+ seniors, who often don't have children or who may be single and living alone, are among those taking advantage of JFCS' popular Futures Program, which helps seniors plan for their future care needs while they are healthy.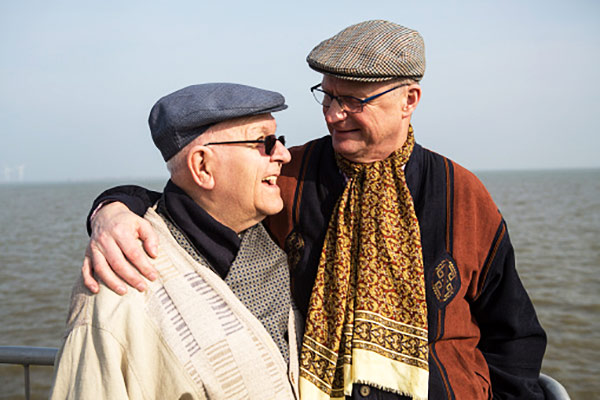 Alan and Peter were thrilled to sign up for the Futures Program. As self-described "planners" in all aspects of their lives, the couple approached their care at home no differently.
Partners for decades, Alan and Peter share a home in San Francisco. When they reached their 80s they began to get worried, having no family close by, who would care for them as they aged? "We realized that we needed to work out who could care for us if we become ill or need assistance going forward," Peter says, "So we started making plans."
According to senior advocacy organization SAGE, seniors who define themselves as LGBTQ are only half as likely as heterosexual seniors to have close relatives to call for help, and three times more likely to be childfree.
Traci Dobronravova, Director of JFCS' Seniors At Home, has noticed that the Futures Program has been particularly popular with same-sex couples and seniors who live alone, adding, "Whether they are in their sixties or their nineties, aging adults are very interested in putting a plan in place for future care."
Those who join the Futures Program receive a free consultation with a Seniors At Home care specialist and a check-in every three months afterwards to make sure they are managing well, and to see if any changes are needed in their preparation plans.
Peter and Alan liked the fact that JFCS has served the LGBTQ+ community for many decades and works with Bay Area's Open House to provide its caregivers with awareness training so that they are educated on the particular needs and experiences of seniors of all sexuality and gender identities. Since JFCS' senior services program is known as a welcoming and safe place to seek services, it has coordinated care for many gay, lesbian, and transgender individuals and couples.
Just months after joining the Futures Program Alan suffered a heart attack. His recovery required hospitalization and Peter made daily trips from home to be by his side. On one of these trips Peter fell and fractured his pelvis.
Alan was discharged first, and Seniors At Home staff stepped in right away. The couple didn't have to worry about arranging for the home care as it was ready and waiting to help them both recover.
Peter says, "The flexibility of the Futures Program and being able to call people who we already knew was extremely helpful."
Alan and Peter have now recovered and continue to live independently without care. However, they know they will call again when their needs change.
Learn more about the Futures Program >
JFCS' Senior Services are partially funded by generous individuals and foundations whose support helps those who can't afford the full cost of care.
To donate, please contact Barbara Farber at [email protected], 415-449-3858, or go to www.jfcs.org/give.
---
Posted by Admin on June 6, 2017