Bill and Marilyn Sugar: Giving Is Better Than Receiving
Bequests
Charitable Gift Annuities
Bill z'l and Marilyn sat for this interview in 2012. May his memory be for a blessing.
Marilyn and Bill Sugar have never forgotten the hardscrabble lives of their families, European Jews who escaped the anti-Semitism of the Old World and struggled to learn English and make ends meet in the United States.  From their parents' and grandparents' hardships emerged an important lesson for Marilyn and Bill: that coming together to help those in need makes for a stronger community.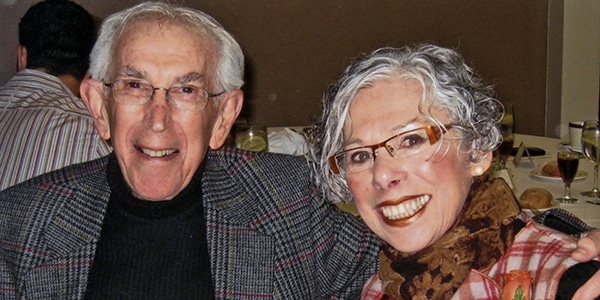 Following the path of their forebears—who supported their communities through Jewish benevolent societies in Seattle and Akron, Ohio, their respective hometowns—Marilyn and Bill are making a generous bequest to JFCS in their will.  This gift is in addition to the charitable gift annuity they have already established. "We like that JFCS is all-encompassing, that it's there to take care of people when need help," Bill says. "Life is not always easy."
Both Bill, who owned a home improvements business, and Marilyn, who worked for many years selling dairy products to local groceries, have long been active in Jewish philanthropy.  "My father, who started out in America as a peddler, always said that it's better to give than to receive," says Marilyn. "Bill and I believe that it's a privilege and a duty to give back."
Through our charitable gift annuity and our bequest to JFCS we are giving back to the community that we have enjoyed living and participating in.  It is a privilege to be able to support JFCS, an organization that we trust to be here for generations to come to help the elderly, children, and families, and those facing emergency situations.
---
Posted by Admin on June 10, 2019