Adoption Connection: Helping Families Fulfill Their Dreams
Danny K. and Ron C. with their son, Beckett, 3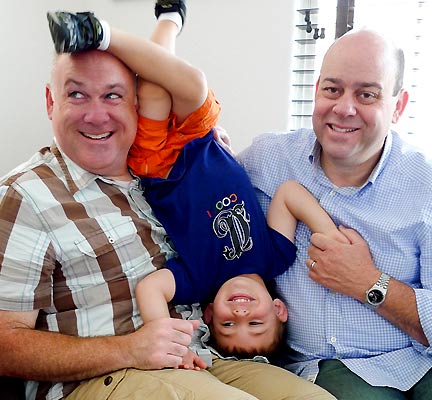 "Adoption Connection did a great job in preparing us to become dads. They took us through every possible adoption scenario—from the smoothest to the most challenging. The more we learned to let go and allow things to unfold naturally, the more relaxed we were.  We felt totally supported.
"We also learned during the adoption process how important it is to understand what the birthmother is going through, which helped us to be sensitive and thoughtful in our interactions with her. Beckett was born literally hours after we had an introductory phone call with his birthmother. It was a scary and euphoric  time, but the team at Adoption Connection helped us navigate our  'instant'  baby.
"The last three years have been absolutely phenomenal. Beckett loves having two dads. Danny's mom was always fine with his being gay, but was sad at the thought that he may not be a dad one day. (Things were different in the '80s!) Now, she is over the moon with Beckett, who is so even-keeled and good-natured. Everyone in our family adores him.
"Adoption Connection has invited us back several times to talk about our experiences with other prospective parents, and we just told the new guys on our street who are interested in adopting about Adoption Connection."
---
Posted by Admin on June 23, 2014