JFCS' Seniors At Home Healthcare Advocacy Is Life Changing
Even in the best of times navigating today's complicated healthcare system can be confusing.  But for older adults, like Leo, who are experiencing serious or life-threatening conditions, it can be especially daunting.
After Leo underwent a bilateral knee replacement surgery the results were mixed. Though Leo had been convinced by his doctors that the surgery could enhance his quality of life at age 80, weeks after surgery his recovery was stagnant and he was experiencing a great deal of pain.
Leo says, "My doctor said surgery would be 'no problem' and I thought, 'no problem', but it was not so easy."
Adding to Leo's frustration was the fact that with English being his second language he struggled to communicate with his doctors, physical therapist, and other healthcare professionals. Leo's mounting confusion about why his condition was not improving and his unresolved pain was leading to angry outbursts and depression.
Hoping to improve Leo's outlook, his doctor at Kaiser prescribed aquatic physical therapy (exercises and treatments that are done in a pool). Since his health insurance didn't cover this treatment, his doctor also handed Leo a phone number for JFCS' Seniors At Home.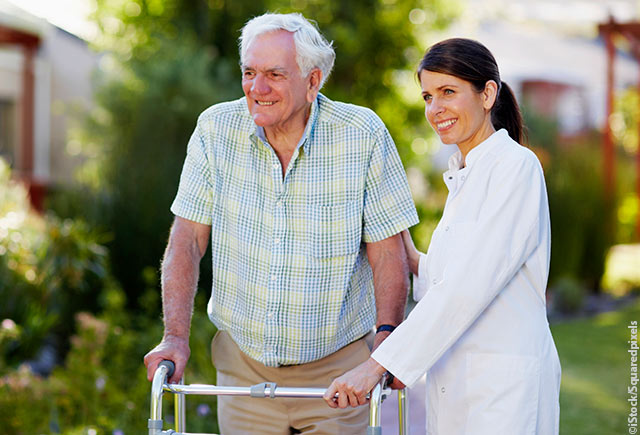 JFCS' Seniors At Home Healthcare Advocacy Brings Continuity of Care
Leo called and was immediately matched with Laura Sigura, an experienced Seniors At Home Care Manager, who researched options for water therapy and met in person with Leo and his doctor to discuss his options. After deciding on a local center, Laura completed a financial assessment and coordinated Leo's payments for his new therapy. She also coordinated transportation for Leo to his appointments when it was needed.
Laura says, "Healthcare advocacy is especially important for seniors, like Leo, who may not have a relative nearby and who feel overwhelmed with today's system of healthcare."
Since Leo's pain and frustration were still obstacles in his recovery, Laura also found translation services and helped him navigate the Kaiser system in order to secure a second opinion in regards to his pain management plan. Laura kept in regular contact with Leo and provided supportive counseling to help him cope with his disabilities after his surgery.
Better Outcomes and a Brighter Future
For older adults who are struggling to cope with a complicated illness or treatment plan, JFCS' Seniors At Home's Healthcare Advocacy service works like a health care "concierge" navigating the healthcare system by opening up lines of communication and facilitating collaborative care between healthcare providers and the patient. Care Managers ensure that their client receive the information, understanding, and support they need to make informed decisions about their healthcare to ensure they are comfortable and in control. Laura says, "Our clients are still in charge of their own healthcare decisions, but we are there to help make those decisions clearer."
Now Leo's condition is gradually improving. He and Laura have together found effective pain reduction solutions and continue to work with his care team to manage them. Leo's anger has also subsided, and he is finally able to enjoy his daily activities. He says, "Life is good again, I'm thankful."
To find out about how JFCS' Seniors At Home Healthcare Advocacy and Care Management services might benefit you or a loved one, contact an intake coordinator online here or call 415-449-3777 for services on the Peninsula and in San Francisco, Marin, and Sonoma Counties.
Support for JFCS' Seniors at Home Healthcare Advocacy Services are provided by generous individuals, foundations and businesses. If interested in contributing, please call Barbara Farber at 415-449-3858 or email: [email protected].
---
Posted by Admin on May 3, 2016