Grief Support Groups Help Seniors Heal and Remember, "I'm not alone"
When Annie's husband, Dennis, passed away she was initially overcome with sorrow. For five years Dennis had suffered from Alzheimer's, and Annie, 78, had been his loving primary caregiver. He was the focus of her life just as he had been for over 50 years. Now that Dennis was gone Annie suddenly felt lost and unsure how to move forward with life on her own.
Months after his death, Annie wasn't coping well—sleep was elusive and she had lost her appetite. Dennis' death brought more than just sadness and grief for Annie. It emerged that Dennis had left their estate planning out-of-order before the onset of his dementia, leaving Annie with many loose ends and debts to resolve. Annie was angry, but she didn't dare tell anyone how she felt. She loved Dennis, how could she be angry with him?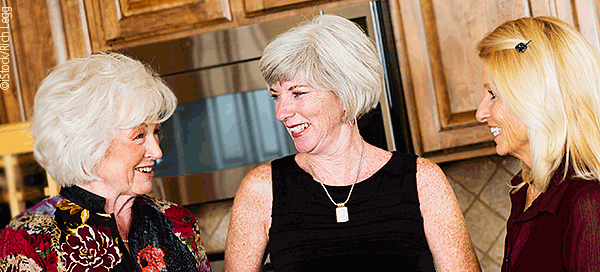 A friend suggested that Annie might benefit from some sort of grief support and Annie decided to call JFCS' Seniors At Home, the organization that had given her excellent support and advice through consultations with their Center for Dementia Care during the last year of her husbands' life. Annie was hesitant, but signed up for a Grief Support Group unsure whether she could be comfortable discussing her feelings in front of others. At the first meeting she listened to group members share and tell their stories and Annie finally realized that she was not alone in struggling with her confusing set of emotions.
The Power of Shared Experience
Coping with the loss of a loved one may be one of the hardest experiences we face in our lifetime, as well as one of the loneliest. Rabbi Daniel Isaacson, the Director of JFCS' Spiritual Care Program and a facilitator of JFCS' Grief Support Group, says, "Grief is in its nature an isolating experience, and many people don't realize that what they are experiencing is normal or okay. They are often afraid to reach out and to talk about what they're feeling. It can be especially difficult for seniors who are losing many of their friends and loved ones as they age."
JFCS encourages members of the community to seek the support they need when they are grieving, by offering both individual counseling and Grief Support Groups to people of all faiths who are dealing with any type of loss. "Tending to the bereaved, just as we tend to the sick, is a deeply rooted value in Judaism," Rabbi Daniel says. "Just as we support people who are dying and as we honor the diseased, we also comfort the bereaved through their process so they can fully reengage with life."
JFCS' Grief Support Group is offered for eight-week sessions in the Spring and Fall, and it allows individuals to explore the emotional, spiritual, and psychological aspects of the grieving process in a safe and supportive environment. The group focuses on the importance of talking, sharing stories, and creating a sense of community among everyone in the group.
Rabbi Daniel says, "A group setting has tremendous value because it helps people who are bereaved to normalize what doesn't feel like a 'normal' experience. We create a community—a surrogate family—to support one another, alleviate the pain of isolation, and create a renewed sense of hope."
Moving Forward
Through the grief support group, Annie learned that it was okay to experience anger and it was actually a very common emotion after a loss. With this understanding, she was finally able to move through her anger and face all of the other emotions she was experiencing as part of the grieving process.
Annie's disposition began to lighten as a weight lifted. She says, "It was so helpful to share my feelings in a safe place. I made new friends and our experiences are so similar." In fact, now that the eight weeks are over, Annie and the other group members chose to continue to meet on their own to catch-up and support each other. Annie is optimistic about living the rest of her life and ready to move forward.
JFCS' Senior At Home services offer Grief and Bereavement Counseling along with a comprehensive range of senior services so that seniors can live more independent lives in their own homes. If you are someone you or someone you know is struggling, find out more about grief support for seniors here.
Partial funding is provided to JFCS' Grief and Bereavement Services by individuals and foundations. Special support is also provided by Sinai Memorial Chapel.
If interested in contributing, call Barbara Farber at 415-449-3858 or email: [email protected]
---
Posted by Admin on April 6, 2016