JFCS Holocaust Center Confronts Rising Antisemitism
JFCS News
Education
Holocaust Center
Last month, an alarming incident in Marin County schools reminded us that antisemitism exists, even in our own backyard.
An Instagram account associated with Redwood High School in Larkspur named specific Jewish students in Marin and asked for followers to contribute to a list of names. The account was titled "Redwood students organized (against) semitism."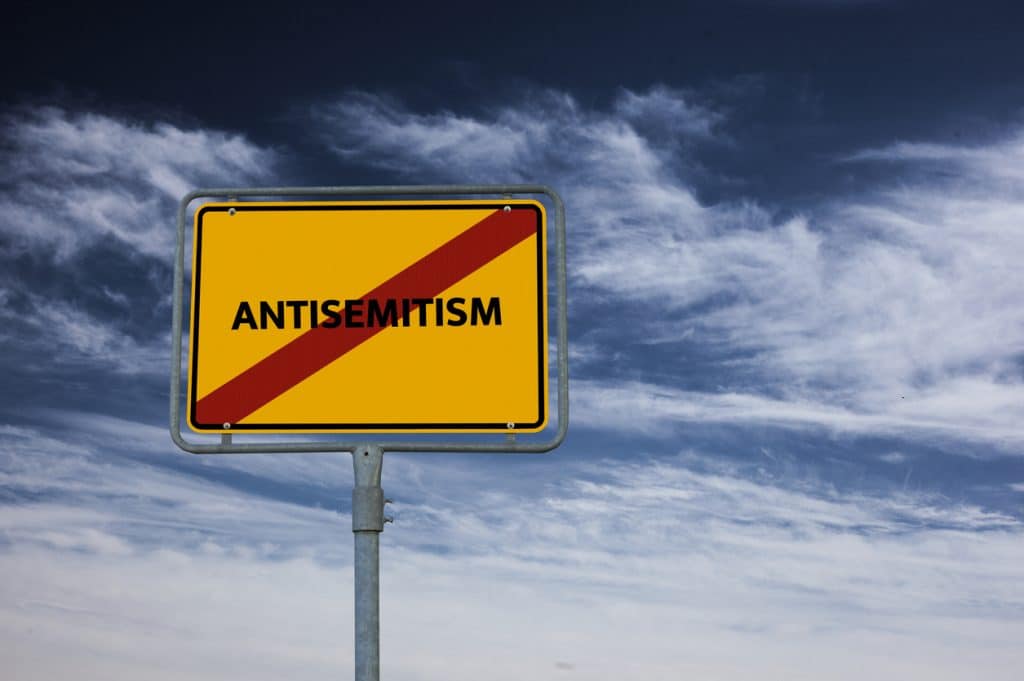 This incident represents an urgent and growing problem—what has happened in Marin schools is unfortunately not unique. Acts of antisemitism have been reported in schools across the Bay Area, most recently in San Mateo County, and represent a larger, national shift.
A study released by The Claims Conference last month showed a shocking lack of Holocaust knowledge and awareness among Millennials and Gen Z in the United States. This hits close to home when, despite a slight decrease in overall hate crimes in California last year, hate crimes targeting Jews increased by 12 percent.
As Lydia Shorenstein, Chair of the JFCS Holocaust Center Council, wrote in The Times of Israel Blog this week, "Every child, especially those from marginalized communities, should feel validated in California's public classrooms, particularly at a time of rising racism, antisemitism and white nationalism."
The JFCS Holocaust Center Leaps into Action
When Morgan Blum Schneider, Director of the JFCS Holocaust Center, heard about what happened at Redwood, she immediately reached out to close colleagues in Marin County schools to strategize about how education could help to confront this community crisis.
"I see education as one of the strongest tools to combat antisemitism, bias, and hate," says Morgan.
Each year, the JFCS Holocaust Center educates over 25,000 students, teachers, and community members on the Holocaust and patterns of genocide. Through these programs, Morgan says, "we see firsthand how education can inspire young people to take a stand."
In a matter of days, the JFCS Holocaust Center—in partnership with the Anti-Defamation League and the Marin County Office of Education—launched a 14-part community educational program that will begin this month. The Confronting Antisemitism Educational Workshop Series will include Holocaust survivor testimony, introduce anti-bias lessons, and provide a safe space to ask questions about recent antisemitic incidents—both locally and around the world.
A special workshop for parents, which will be co-led by experienced Parent Educators from JFCS' Center for Children and Youth, will address how parents can talk to their children and teens about difficult subjects such as racism and hate.
Morgan says, "It is up to us to shape the narrative we are teaching to our children to better reflect the values we want to see in the future."
Hope for the Future
On the same day that the Confronting Antisemitism series was announced at the Marin County Town Hall, Governor Gavin Newsom—an alumni of Redwood High School—vetoed the controversial Ab331 ethnic studies bill which would have excluded the American Jewish experience and a discussion of antisemitism from a mandated high school curriculum.
The Governer's decision gives the state time to develop a curriculum that is truly inclusive of the wide array of Jewish American experiences as well as those of other marginalized ethnic groups. This includes Jewish Americans of all colors and backgrounds—especially important in California, where 15% of the Jewish population are Jews of color.
Lydia writes, "My greatest wish is that this curriculum serve as a model not only for the state, but for the nation—and that it reduce stereotyping and further unify us in achieving our common goals, in the classroom and elsewhere."
While California will hopefully seize this opportunity, the Confronting Antisemitism Workshop Series is an important first step towards stopping the escalation of hate in our community.
"It is very inspiring to see the community come together with passion, organization, and resources in this way," Morgan says.
"I believe that through this type of education, we can make real and lasting change."
The Confronting Antisemitism Educational Workshop Series begins October 21, 2020 and will run through May, 2021. Register for a workshop here >
Help ensure the future of Holocaust education. Donate to the JFCS Holocaust Center today >
---
Posted by Admin on October 14, 2020