Bestselling Author Madeline Levine Discusses Her New Book, "Ready or Not", and Her Participation on JFCS' Center for Children and Youth Expert Panel
Center for Children and Youth
Education
Parenting
"Failure is mandatory to get better at anything," said Dr. Madeline Levine in a recent conversation with JFCS about her new book Ready or Not: Preparing Our Kids to Thrive in an Uncertain and Rapidly Changing World. Madeline, who is serving as an expert for JFCS' new Center for Children and Youth, explained that parents need to exhibit confidence in their children's resilience. She said, "I've watched my own son and his and wife react as their toddler falls on her butt over and over—they know she has to fall down 100 times in order to stand up". When children aren't trusted to recover from small setbacks, they don't learn how to deal with the inevitable failures they will face as an adult. In her book, Madeline refers to the outcome of parents' unnecessary accommodations to anxiety as "accumulated disability". It is one of the mains reasons why mental health workers have seen such an uptick in struggling young adults; many of who need help with the basics of "adulting."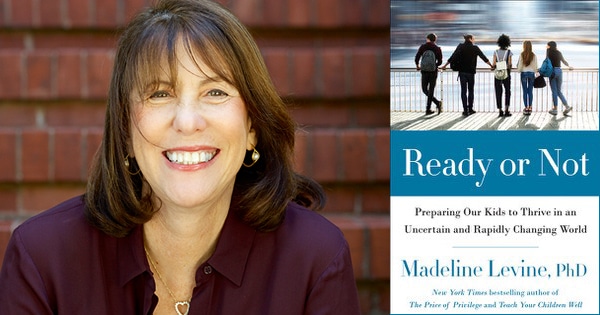 Madeline believes that we need a cultural change around notions of how we measure success and less catastrophic thinking about failure. We've moved the needle over the last 10 – 15 years for individual families, but parents are mostly afraid to hinder their kids by going against the "culture of accomplishment". We all need to slow down, but being busy is considered a badge of honor. A high bar is still important but in the context of where you can be successful and what you value, which should include much more than only a high-status college acceptance. That's why many desirable companies don't just recruit from schools like Harvard anymore. They look for diversity in thinking, and a group of Harvard graduates are likely to think in similar ways.
Today, the qualities that define success have changed and the college you go to isn't as critical as it once was. This is not to denigrate the accomplishment of gaining admission to a selective college. However, when Madeline spoke with the head of JP Morgan, the head of AI at Google, and the former Vice-Chair of the Joint Chiefs of Staff; they all said that the skills that matter in uncertain and rapidly changing times are different than traditional academic skills. Instead, they are looking for diversity of thinking, creativity, collaboration, and the ability to take risks.
Madeline's first full-time job as a psychologist was with JFCS, and since then the Jewish value of Tikkun Olam, repairing the world, has had a profound impact on her career. "Looking beyond my individual patients and wanting to have a positive impact on a larger scale is why I started writing and why I am now working with the Center for Children and Youth," said Madeline. In her work, she has seen that having a good value system, like the one in Judaism, is a critical foundation for kids. Research tells us that kids who attend school with an emphasis on values have fewer problems than kids who don't.
Today, 1 in 3 children has an anxiety disorder. With an ever-changing landscape of technology, particularly social media, adolescent pressures, a fear-driven political climate, and mass shootings; parents desperately need support in order to help their kids. The need for this support has exploded and that's why Madeline was attracted to JFCS' Center for Children and Youth (CCY). CCY has the capacity to train people to go into the community which gives it the potential to have an exponential effect. "I would love to able to impact our city, our state, our country—and that takes advocacy and policy changes," said Madeline. "Dr. Gary Rayant and Dr. Kathy Fields-Rayant who initiated CCY have a terrific understanding of what it takes to create cultural change and it is a privilege to work with them."
Madeline's new book, Ready or Not: Preparing Our Kids to Thrive in an Uncertain and Rapidly Changing World, is an incredible guide for parents of all ages as they think about what will provide real preparation for their kids in their certain-to-be uncertain future. Ready or Not recently released and is available for purchase. JFCS is honored to have Madeline involved in our agency and serving as an expert advisor for the Center for Children and Youth.
JFCS' Center for Children and Youth is made possible by generous donations, fees, and the leadership support of Dr. Kathy Fields-Rayant and Dr. Garry Rayant, Alex Ingersoll and Martin Tannenbaum, the Friend Family Foundation, the Harold and Libby Ziff Foundation/Lela and Gerry Sarnat, Jay and Rose Phillips Family Foundation of California/Terry and John Levin, Lisa S. Pritzker, and the Taube Foundation for Jewish Life & Culture/Dianne and Tad Taube. To learn more about JFCS' services to our community or to support JFCS' Center for Children and Youth please contact Barbara Farber at [email protected] or 415-449-3858.
---
Posted by Admin on January 31, 2020