JFCS' Nutrition Program Tackles Hunger, One Bag of Groceries at a Time
Nutrition Program
Volunteers
The Bay Area is often described as a foodie's paradise—but given the region's high cost of living, many people from all walks of life find themselves unable to afford all the food they need. In San Francisco alone an estimated 1 in 4 people experience hunger. JFCS' Nutrition Program collects nearly seven tons of food each fall through the High Holiday Food Drive, a critical community effort that ensures that our five regional pantries have basic food items stocked on the shelves all year long.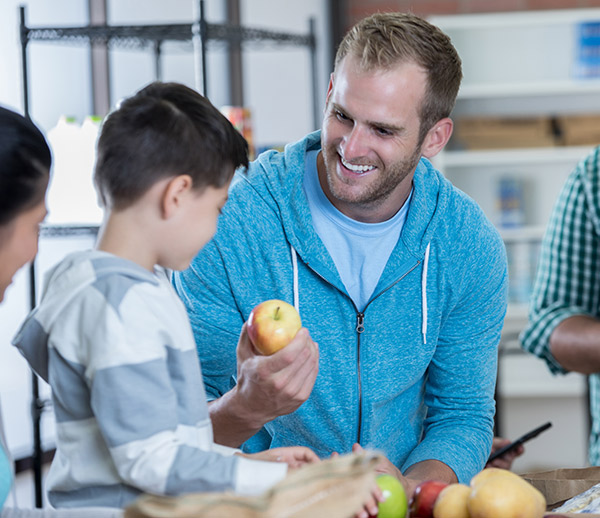 Free, Healthy Groceries a Lifesaver for Fixed-Income Clients
Linda, 76, a retired teacher's aide living on the Peninsula, struggles each month to make ends meet. With no family to assist her, being hungry doesn't help with her feelings of loneliness or isolation. Like many low-income seniors, she is constantly juggling to pay her expenses like rent, utilities, and health care costs—and food is often the first item to get slashed in her budget. Since learning about the JFCS Food Bank from her case manager, Linda now makes a visit every week and says the food she receives has been "a lifesaver."
Miriam Markowitz, Director of Nutrition Programs, says Linda is just one of the hundreds of JFCS clients who struggle to put food on the table. And while some pantries have waitlists, the JFCS Nutrition Program ensures that anyone in the community in need can get a bag of groceries the same day.
"We are a safe, judgment-free space where clients 'shop' in the pantry like a store and can pick items off the shelves themselves for that supplemental bag of groceries," says Miriam.
Volunteers Are the Nutrition Program's Biggest Asset
Making sure the Nutrition Program runs smoothly is truly a community-wide effort.
Each year over 200 dedicated people volunteer with the program, donating food to the bank each month, or stocking and organizing its shelves. Other volunteers deliver groceries and meals to homebound clients, bringing with them sustenance and their welcoming presence.
Celebrating the New Year with the High Holiday Food Drive
You can help make sure that those in our community who are hungry, or are at risk of hunger, have enough to eat by taking part in the High Holiday Food Drive!
Miriam says the unopened and non-expired food that the drive collects is critical to the pantries' success.
Miriam adds, "Come August each year, our supplies dwindle down so we really rely on the food drive to ensure we have basic items stocked on the shelves all year long."
Support for JFCS' Food Bank, as well as JFCS programs throughout our community, is generously provided by individual donations, gifts from civic groups and synagogues, and foundation and corporate grants. Special thanks also to the Koret Foundation and Federation Maimonides Fund for helping to make our holiday food bags possible for those in need.
---
Posted by Admin on September 5, 2017