A Caring Group of Friends Bands Together to Help Those in Need
What do Zoe Schwartz, Marsha Jacobs, Lynn Ganz, Miriam Sparrow, Ellen Mundell, Marlene Stein, and Bonnie Lasky all have in common? The dynamic septet are part of the Sonoma Leadership Council, a JFCS affiliate group that has come together to support JFCS' outstanding services. "JFCS is like my favorite Jewish mother and father," said Lynn, "tenaciously protecting, loving, nurturing, and strengthening their family."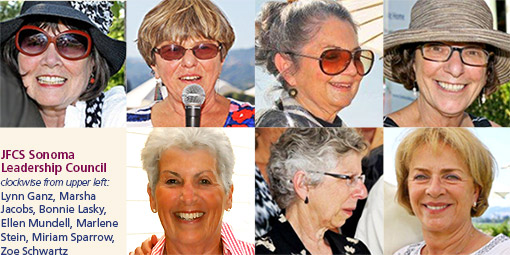 The Leadership Council members are among many in the Bay Area who want to improve the lives of tens of thousands yearly through exceptional programs like Parents Place, Seniors At Home, Dream House, and the JFCS Holocaust Center.
"We love spreading the word about JFCS," added Zoe, "because it does so much good for so many people. I always tell people there are so many ways you can get involved at JFCS, whether by serving on a committee, shopping for the elderly, or providing comfort to clients with your dog through the Canine Corps Program."
Marsha, like Lynn and Zoe, is very impressed by the breadth and quality of JFCS' program. "As a community, we must make sure that these services remain available to help Jews and non-Jews alike," she said. "We feel it is important to give both of our time and of our resources so that JFCS is able to help people today and for generations to come."
With governmental cutbacks to services, said Miriam, the need to protect JFCS' programs has become more critical. "There is a growing population that needs our help. If we want JFCS to continue to offer them, we have to provide support."
To learn how you and your friends can contribute time, talents, and resources and become part of the JFCS family, contact Barbara Farber at 415-449-3858 or [email protected].
---
Posted by Admin on January 7, 2014