Canine Corps Volunteer Program
Do you share your life with a friendly well-trained dog? JFCS' Canine Corps help seniors live safer, healthier, more independent lives in their own homes. By working with seniors, volunteers have the opportunity to help them remain independent, while building meaningful relationships. Pets often bring out the best in people. This program provides an opportunity for seniors to experience the benefits of human-animal interaction.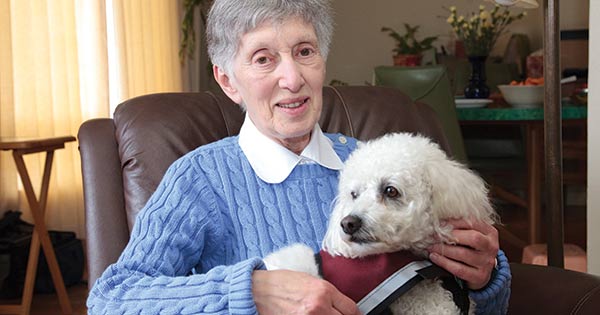 Here's how to become a JFCS Canine Corps volunteer:
To get started first fill out the online JFCS Volunteer Application and check the "Canine Companions" interest box. A JFCS Volunteer Coordinator will reach out to answer any questions and schedule an initial in-person interview at a JFCS office. At the initial screening, staff will assess the personality of your pup, including how he/she does with strangers and new environments.
After this initial screening, prospective volunteers and their dogs are required to complete a San Francisco SPCA Volunteer Training. JFCS staff will connect you with the SF SPCA and find a training that fits your schedule. These courses generally take place over the course of three to four weeks and cost approximately $250. While the SPCA still focuses on group volunteer matches, our canine program focuses on individual matches where volunteers visit one client and form an ongoing relationship.
After you and your dog have completed the SPCA course, JFCS's Volunteer Coordinator will complete a personalized volunteer orientation with you and your dog. This meeting will focus on what to do during visits, expectations of JFCS, and mock and supervised visits.
You and your dog are now ready to be matched with a senior near you! JFCS requires a one-year commitment to visit a JFCS client once a week—for about an hour. Such visits offer warmth and companionship to those who are often isolated and alone.
Pet therapy has proven an effective way to provide love and comfort to people seeking more connection with their communities. Be a part of this wonderful outreach. What's in it for your pooch? New special friends, plus a JFCS Canine Corps vest!
Read about Janet and her experience as a Canine Corps volunteer in Bay Woof >
If you have questions please contact 415-449-3824 or email: [email protected].
---
Posted by Admin on October 14, 2015