JFCS Partners with Israeli Tech and Lyft for Senior Care
Depression, cognitive decline, and long-term illness are just some of the dangers associated with loneliness and social isolation for adults 65 and over. JFCS' Senior Services Program, Seniors At Home, has collaborated with two innovative technology companies, Intuition Robotics and Lyft, to harness the benefits of technology and make sure that seniors can enhance their quality of life, as well as their independence at home.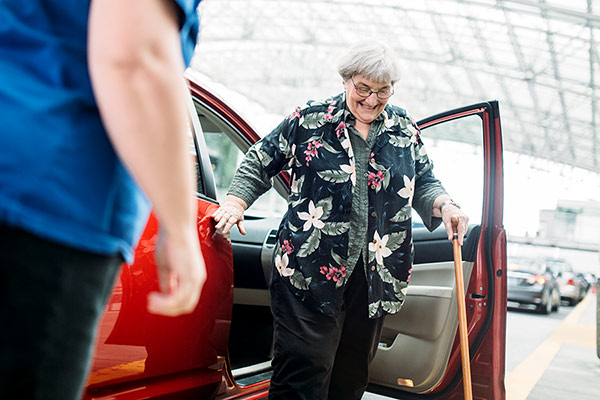 Digital Companion Offers Connection and Reduces Social Isolation
Imagine waking up and being greeted by a friendly digital companion that tells you the weather, sends you photos from your grandkid's Instagram account, and reminds you when to take your medications.
JFCS' Seniors At Home is helping to make this vision a reality through a partnership with Intuition Robotics, an Israeli company that is developing a cutting-edge robot "companion" designed to help older adults age in place. "Her" name?  ElliQ.
Last fall Intuition Robotics approached JFCS' Seniors At Home for input to the design and testing of ElliQ. The company met with Seniors At Home experts to discuss how the new technology could best serve older adults living independently at home.
"Older adults are often left out of new technology advances, yet it's the way we keep in touch with friends and family. ElliQ makes it easy to stay connected, and users don't have to remember a password or be tech savvy, which can be a challenge for seniors," says Traci Dobronravova, Director of Seniors At Home.
Traci adds that by no means can ElliQ take the place of a human caregiver or be a stand-in for human connection, but it can certainly help motivate older adults living alone to reduce social isolation.
"ElliQ is fun to talk to, easy to use, and interacts with owners based on individual habits and personality," says Roy Amir, Intuition Robotic's Vice President of Products and Co-Founder. "Even when it might be harder to leave the house, it's still possible to be engaged and connected to the outside world."
Bridging the Technological Divide
Over the last few months, a select group of Seniors At Home clients have had the chance to test the robot in their homes.
Through machine learning ElliQ learns the preferences, behavior, and personality of her owner over time to understand what might be appropriate. Perhaps ElliQ will offer to play music or a game of chess or instead suggest a walk. All are based on the history with the client or pre-programmed recommendations by the owner's family. The next phase of the project is to leave the ElliQ prototype with the testers for longer stretches of time.
Seniors At Home is one of the primary testing sites before ElliQ hits the market and is currently Intuition Robotics' only U.S. partner.
About the partnership, Roy says it is Seniors At Home's expertise and long track record of working with older adults that has made this such a great match. "We have a common passion in that we both want to find ways to help people enjoy and celebrate life," says Roy.
Rides to Benefit Clients and Caregivers
Intuition Robotics isn't the only new technology partnership for Seniors At Home. Recently they've also partnered with Lyft, the popular ride-sharing service.
Ride-sharing is more prevalent than ever, but for the more than half of U.S. older adults who don't own smartphones, the service has—before now—been out of reach.
Through this new initiative Seniors At Home is arranging Lyft rides for its home care clients who lack smartphones or who prefer to request a ride by simply making a phone call.
Like Seniors At Home, Lyft is dedicated to the safety for everyone in our community. Lyft was chosen from a number of ride-sharing companies because it hand-selects and screens its drivers through comprehensive background checks and in-person interviews.
Traci says reliable transportation is key for older adults. Without a way to get around, they face an almost doubled risk of depression due to the lack of independence, as well as an increased risk of social isolation.
"Lyft helps our clients stay active in their communities. Whether that means going to their medical appointments or meeting a friend for lunch, they're able to maintain some autonomy over their day-to-day activities, and that's really beneficial," says Traci.
Caregivers also benefit. Since some Seniors At Home caregivers do not drive, and those that do are in high demand, being able to call a Lyft ride means that more caregivers are available where and when they are needed.
Increasing Day-to-Day Independence
Through these two partnerships Seniors At Home is using technology to enhance the lives of aging adults, who otherwise may see it as a barrier.
Traci says, "Our goal has always been to help our clients sustain as much independence as possible in their own homes, and I'm really excited that, with the right partnerships, we can use our expertise to help develop the technology changes needed to continue to care for the growing number of seniors that we serve."
Learn more about JFCS' Senior Services Program, Seniors At Home >
JFCS' Senior Services are partially funded by generous individuals and foundations whose support helps those who can't afford the full cost of care.
To donate, please contact Barbara Farber at [email protected], 415-449-3858, or www.jfcs.org/give.
---
Posted by Admin on May 9, 2017