How Your Support Is Helping Israel through JFCS' Partners on the Ground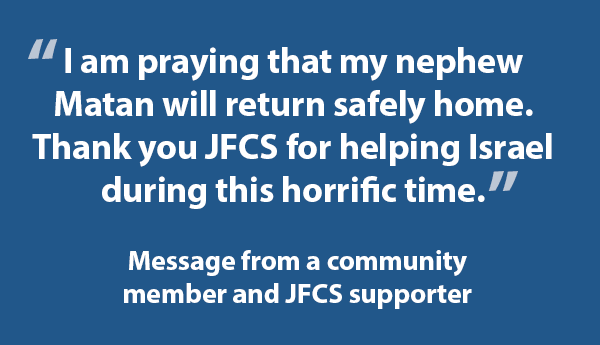 As we watch this nightmare unfold in Israel—many of us heartbroken, or worrying about friends and loved ones—it is easy to feel helpless. But now is a time of action, and JFCS is working closely with our partner agencies in Israel to provide direct assistance including emergency food, shelter, and psychological first aid.
More aid is urgently needed, and there are several ways that you can help:
Donate to JFCS's Israel Emergency Fund
Double your gift through company-matching donations.
Share our posts on social media
Create a Facebook Fundraiser for JFCS
If you or someone you care about could benefit from trauma support or emergency counseling, call JFCS' Bay Area Critical Helpline at 415‑449‑3700
Here's how your support is helping.
Photos courtesy of One Heart, JFCS' partner in Israel
As we enter Shabbat, we also light candles for Israel—for those who were murdered, those who are missing, and all who are suffering.
JFCS is here for you and your family, always. We stand united, and we work and pray for peace.
---
Posted by Admin on October 13, 2023