JFCS Helps Everyone—From First Steps to Last Breaths
Stories & Testimonials
Seniors
Eight years ago, Betsy Zeger's mother, Maxene, had just gotten out of the hospital when Betsy's father died unexpectedly. Betsy found herself completely stretched thin, trying to care for Maxene while grieving the loss of her father. Fortunately, a dear friend noticed Betsy's struggle and connected her with JFCS' Seniors At Home division.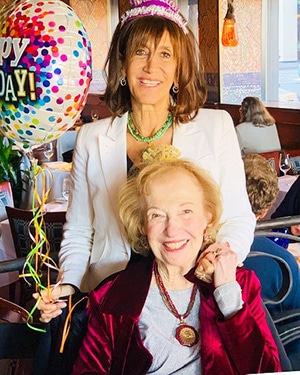 Betsy says calling JFCS was a turning point. "My mother's quality of life greatly improved, as did mine, knowing that she was in such safe and capable hands," Betsy recalls. "Her needs have varied over the years, but the one thing that's consistent is the way Seniors At Home helps us—regardless of the issue."
Inspired by the quality of Maxene's care, Betsy wanted to give back to JFCS in any way she could. She eagerly took on important leadership roles, serving on JFCS' Public Issues Committee for a year and later the Programming & Planning Committee, where she continues to serve. Like many JFCS supporters and volunteers who have received help in challenging times, Betsy became part of a circle of giving that strengthens the entire community.
Family Support during the Pandemic
When the COVID-19 pandemic hit, so did big news within Betsy's family: her daughter had a baby, just days before the first lockdown. With a frightening illness knocking on the door, Betsy's daughter was forced into isolation in order to keep Betsy, Maxene, and her newborn safe.
Betsy wished she could be there to help in person, but fortunately, she knew that JFCS was offering virtual services to support new parents who were alone during that time. She connected her daughter with JFCS's Parents Place, where she found a supportive community of new moms, virtual visits with a lactation consultant, and a wealth of resources to guide her.
From Birth to Assisted Living
Meanwhile, Betsy learned that Maxene's condominium was sold and that she must find her mother a new home. At 93, Maxene was still spry and astute, and Betsy knew that being part of a community with a vibrant social life would be a key factor for her cognitive health. Betsy once again reached out to JFCS for a trusted solution, and was quickly referred to Rhoda Goldman Plaza (RGP), JFCS' assisted living community. Maxene was wowed by RGP's light-filled lobby and spacious apartments, while Betsy was reassured by the personalized support and coordinated continuum of care. Maxene moved into her RGP apartment this spring!
"What a blessing it is for the Bay Area to have an organization that serves our community from birth to death," Betsy says. "Since my dad passed away, I feel like the folks at JFCS, Seniors At Home, and RGP have supported me the way siblings would support each other. I am so grateful to have found them."
JFCS is grateful to Betsy, too, and to all the leaders, supporters, and volunteers who make such critical help available to the community.
Learn more about JFCS' Seniors At Home services and assisted living at Rhoda Goldman Plaza >
To support the services that help families like Betsy's, make a donation today >
---
Posted by Admin on August 3, 2021