Talking to Children About the Violence in Washington D.C.
Center for Children and Youth
Parenting
"What is happening, Mommy?" "Are we going to war?"
As we process the recent violence at the U.S. Capitol, our children may be asking questions that are difficult to answer. How should we talk to our kids and grandkids about such a difficult topic? How do we support them through stress, anxiety, and uncertainty? And how can we teach empathy, understanding, and respect so that future generations are inspired to build unity and to stand up against hate?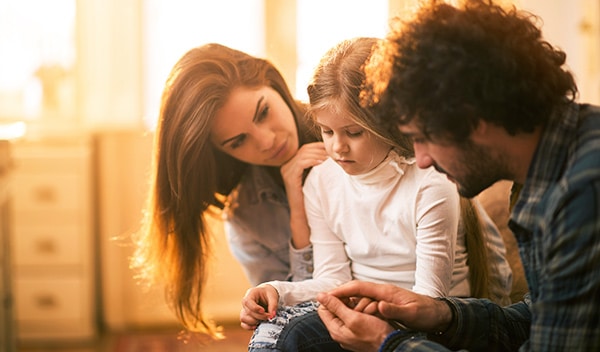 JFCS offers a wide range of expert guidance and support to guide families through challenging conversations and to bring our community together. If you or someone you care about needs support, please call us at 415-449-3700.
Talking to Children About Difficult Topics
In times of crisis or turmoil, having open and honest dialogue with our children serves them best. Read on for a process to follow and sample language to use when talking with young children about unsettling events. Read more >
Supporting Children Through Stressful or Tragic Current Events
With images of violence and conflict filling our screens, adults and children alike may feel helpless or overwhelmed. Karen DeVaney, PsyD, experienced clinician at JFCS' Center for Children and Youth, explains how to identify and respond when your child is experiencing heightened anxiety. Read more >
Raising Our Children through the Lens of Empathy, Diversity, and Respect
Parent educator Rachel Sklar, MSW, shares steps that parents can take to teach kids how to stand up to injustice and build a caring community. Read more >
Building Resilience for Yourself and Your Tween/Teen: Online Workshop
Fri., Jan 22 at 1:00pm PST
For parents of older children, join us for an upcoming virtual workshop! Learn how to respond to anxiety in yourself and your tween/teen, and gain strategies for supporting the emotional well-being of your entire family. Register now >
Confronting Antisemitism: Educational Workshop Series
Series II Begins Thu., January 21 at 3:00pm PST
The JFCS Holocaust Center works with 350 schools and 25,000 students and teachers each year to combat hate and build unity. This timely series of virtual workshops provide a safe space to ask questions and explore the impact that bias has on individuals and communities. Find a workshop >
Reach Out for Support
If you, your child, or someone you know is in need of support, please reach out to JFCS' Center for Children and Youth. Our specialists provide coaching, consultations, and clinicians who work with children and families, in times of stress and anxiety, and otherwise.
JFCS' Center for Children and Youth is made possible by generous donations, fees, and the leadership support of Dr. Kathy Fields-Rayant and Dr. Garry Rayant, Alex Ingersoll and Martin Tannenbaum, the Friend Family Foundation, the Harold and Libby Ziff Foundation/Lela and Gerry Sarnat, Jay and Rose Phillips Family Foundation of California/Terry and John Levin, Lisa Stone Pritzker Family Foundation, the Parasol Foundation, the Shmunis Youth Internship Fund, the Shupin Fund for Youth, and the Taube Foundation for Jewish Life & Culture/Dianne and Tad Taube.
Special support for this community-wide initiative is also provided by the Koret Foundation.
---
Posted by Admin on January 7, 2021