Keeping Seniors Safe During COVID-19
An update from JFCS' Seniors At Home
Each year, JFCS' Seniors At Home helps over 16,000 older adults in the Bay Area live safely, healthily, and independently in their own homes. During COVID-19, our professional caregivers continue to ensure the safety of the seniors in our community and are limiting senior exposure to the virus through personalized care and support.
We are following the most up-to-date guidance from the CDC, as well as state and local authorities, and are staying informed on best practices. Read on to learn about the precautions that Seniors At Home is taking to keep seniors safe and how we're working to reduce the frightening effects of isolation by providing programming to older adults in their homes.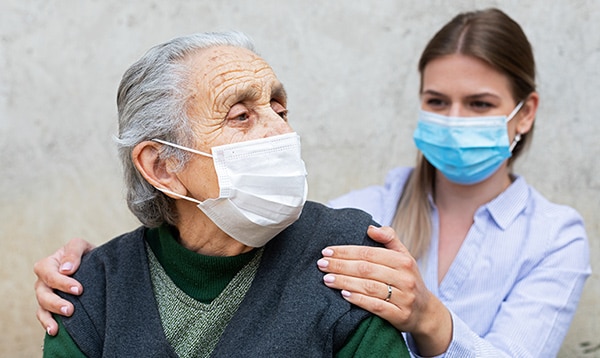 Home Care Safety Measures
JFCS' Seniors At Home continues to provide safe, reliable, and award-winning in-home care. Our caregivers are specially trained in COVID-19 safety procedures and follow CDC protocol, including frequent handwashing with soap and water, hand sanitizers, wearing masks, frequent cleaning/wiping down of surfaces, proper coughing, and sneezing techniques, and more. Our caregivers have been supplied with safety materials from the beginning of COVID-19 and continue to have sufficient supplies available to them. We are also reducing social contact for our staff by providing remote assessments as often as possible and coordinating alternative transportation for caregivers so they can avoid public transit. Learn more about our home care safety measures during the pandemic here.
Program Updates
Our many social and adult day health programs have quickly adjusted their in-person format to ensure that seniors continue to receive care and a connection to community.
Skyview Day Club: Our social day program for older adults with memory loss in Marin County is using Zoom to provide programming that incorporates entertainment, fitness, and socialization. This still offers engagement for our members and respite for family caregivers.
Caregiver support groups: In place of in person meetings in Marin, our caregiver support groups are now online and open to the broader community. Family caregivers are experiencing extra stress caring for loved ones while sheltering-in-place. The support group offers needed support and guidance during a trying time.
L'Chaim Day Health Center: Onsite medical, rehabilitative, and social services for Russian-speaking seniors in San Francisco are now being provided through home visits, to ensure our clients get the needed care for their health and wellbeing.
Plaza Social Club: Cannot meet in person for weekly lunch and activities; however, we have created a Plaza Social Club weekly newsletter that provides links to various websites for tours, concerts, exercise, and social engagement.
Memory Cafe: Weekly gatherings for people experiencing mild to moderate memory loss and their caregivers are canceled due to the potential health risks. However, Café members get email updates on activities and ideas for engagement.
JFCS Food Banks: JFCS's Food Banks across the Bay Area are addressing the rising food needs of seniors and families . Help us ensure that everyone in our community has enough to eat. Find out how to contribute to your local JFCS Food Bank >
Safe At Home Calls: Calls have increased greatly during the pandemic. Volunteer callers help current Seniors At Home clients stay connected during the shelter-in-place order. These regular calls offer meaningful conversations to seniors, as well as allowing volunteers to check that seniors are safe and not in need of additional assistance. Clients receiving one or more of our other services are eligible (food delivery not consider as a service).
Our Center for Dementia Care, Care Management, and Fiduciary Services programs continue to provide comprehensive support to seniors and their family members.
If you or someone you know needs help during the pandemic, please call our Bay Area Critical Help Line at 415-449-3700.
Seniors At Home is a division of Jewish Family and Children's Services. Our services are funded by fees and by donations for those who cannot afford the full cost of care for these critical services.
If you would like to make a donation, please contact Barbara Farber at [email protected], 415-449-3858, or click here to give online.
---
Posted by Admin on July 13, 2020