The Hidden Health Risk of Quarantine: Social Isolation
Center for Children and Youth
Parenting
Seniors
With Bay Area residents sheltering in place, social isolation is putting thousands at risk while trying to keep them safe.
Even before a statewide Shelter-in-Place was mandated, social isolation was known as America's quietest health risk—afflicting everyone from children to seniors, and from stay-at-home parents to CEOs. Even under normal conditions, thousands in our community suffer in silence from the physical and mental health issues related to isolation and loneliness.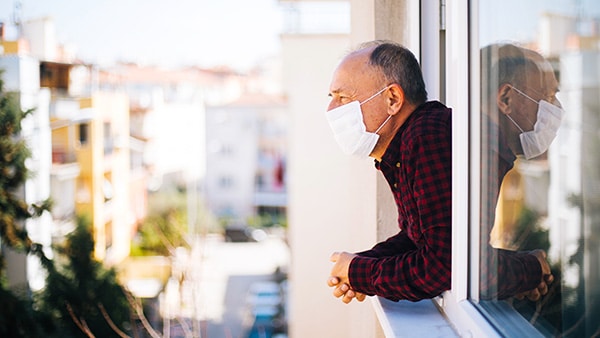 Research has linked social isolation and loneliness to higher risks of many physical and mental conditions including high blood pressure, heart disease, obesity, a weakened immune system, anxiety, depression, cognitive decline, and Alzheimer's disease. Socially isolated seniors face higher mortality rates than those who remain connected.
As seniors, families, and children stay at home throughout the COVID-19 pandemic, an alarming number of Bay Area residents face the physical and mental health risks that come with social isolation.
Thanks to the support of our community, JFCS has been able to swiftly accommodate social distancing while continuing to provide vital services and a loving connection to community.
"It's amazing how quickly we were able to incorporate remote services, social groups, and workshops," says Nancy Masters, JFCS's Associate Executive Director. "Just look at how our programs have shifted to offer connection and services to the community and those in need."
Seniors At Home, JFCS' award-winning senior care program, is providing urgent home health care to the elderly and sick. Our caregivers have up-to-date training regarding Covid-19 and safety measures.
Hundreds of new volunteers have signed on to deliver groceries, medication, and supplies to those who are isolated and homebound. (Volunteer grocery shoppers and food runners are still needed! Apply here >)
Through JFCS' Safe at Home program, volunteers make daily calls to our most high-risk seniors, providing companionship and ensuring their safety.
JFCS' Skyview Day Club, which typically provides onsite programming for those with dementia, has shifted to online activities every morning via Zoom—keeping adults with memory loss socially connected and providing a needed respite for family caregivers.
JFCS' Center for Children and Youth (CCY) is providing online counseling to help families cope during this challenging time.
A series of new online workshops are available to assist parents with everything from juggling work and childcare, to learning how to homeschool, to coping with social isolation.
JFCS is here to help you and our entire community. If you or someone you know needs assistance, please call our Bay Area Critical Help Line at 415-449-3700
Learn more about JFCS' Seniors At Home
Learn more about JFCS' Center for Children and Youth (CCY)
Seniors At Home and Center for Children and Youth services are funded by fees for services and by donations for those who cannot afford the full cost of care for these critical services.
If you would like to make a donation, please contact Barbara Farber at [email protected], 415-449-3858, or click here to give online.
---
Posted by Admin on April 14, 2020