JFCS' New and Expanding Social Clubs Help Older Adults Stay Connected
Aging is happy and healthy when we are part of a warm and welcoming community. That's why JFCS is providing a growing range of social clubs that create meaningful connection and exciting programming specifically for older adults.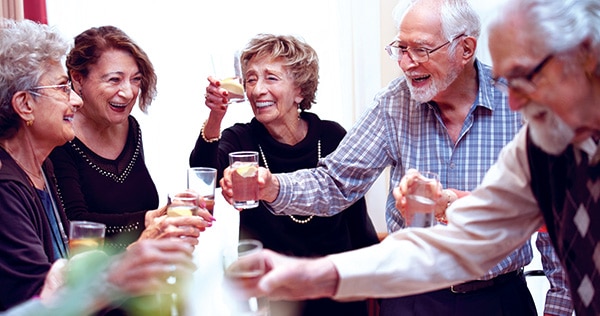 Connections and Culture at San Francisco's New Plaza Social Club
Each week, members of the Plaza Social Club meet at JFCS and Rhoda Goldman Plaza's beautiful campus in Lower Pacific Heights.  Members enjoy inspiring lectures, current events and art discussions, Jewish learning, films, music, and more. Locally sourced, homemade lunches are provided, as well as access to comprehensive services by experts from Seniors At Home.
Plaza Social Club members are primarily older adults who still live independently in the community, though it is also open to residents who live in Rhoda Goldman Plaza's beautiful assisted living and memory care community.
"The Plaza Social Club is here to help create a cohort of like-minded individuals walking through the same stage of life together. Having a weekly get together with others has a positive effect on an older adult's social calendar," says Alana Goldscheid, Plaza Social Club Director.
Building Community at the L'Chaim Adult Day Health Center
For over 20 years, L'Chaim Adult Day Health Center has provided medical, rehabilitative, and social services to elderly and disabled seniors—mostly Russian-speaking Jewish emigres—in San Francisco's Sunset District.
As a licensed facility and Community-Based Adult Service (CBAS) outpatient center, L'Chaim is a person-centered, long term care program that aims to keep older adults living in their homes as long as possible.
Members are able to access a variety of services all under one roof: nursing and personal care; case management; physical, occupational, massage, and speech therapy; nutritional counseling; and recreational and socialization activities. Door-to-door transportation, hot meals, and snacks are also included. Activities are as varied as bingo, lectures, concerts, English language classes, and computer classes.
Community is at the center of L'Chaim's mission and programming. For those emigres who have had to leave, their way of life behind, L'Chaim Program Director Anna Borovik says the club serves as "a bridge to their present lives in the United States. The staff is bilingual in Russian and English, and members find comfort in being among people with the same cultural background."
Memory Wellness at Skyview Day Club in San Rafael
Across the bridge in San Rafael, Skyview Day Club offers social and memory wellness programming for adults experiencing cognitive decline. The daytime programs provide a social avenue for club members and much needed respite for their family members.
Skyview Day Club offers two programs—an on-site club and the Excursion Club, which takes members on outings to art museums, historic sites, concerts, and more.
The on-site club offers art classes, exercise, music, lunch, and more. In addition to providing plenty of opportunity for members to spend time with one another, it offers inter-generational opportunities, too: preschoolers from the nursery school next door stop by regularly for arts and crafts, nature activities, or music.
"Not only do club members get to know each other and have friendships that last for years, but their families often become connected, too, reducing the isolation that family units can feel when caring for an adult with dementia," says Jenn Tripathy, Skyview Day Club Program Director.
Skyview Day Club families also have access to caregiver support groups, and workshops, as well as personalized tools and support from Seniors At Home's Center for Dementia Care.
More to Come!
Coming soon to JFCS is the Seniors At Home Memory Café. Memory Café is an international concept, designed as a social group for people with early-stage Alzheimer's disease or dementia and their care partners. These are informal gatherings are a place for caregivers and their loved ones to gather for conversation, companionship, activities, and an occasional outing, enabling them to stay active and engaged in life together.
Seniors At Home will begin hosting Memory Café activities and outings in San Francisco, Marin, and San Mateo counties early this fall.
To learn more about any of JFCS' senior social clubs, contact:
Skyview Day
Jen Tripathy, Program Director
(415) 491-2500 ext. 140 or [email protected]
Plaza Social Club and Seniors At Home Memory Café
Alana Goldscheid, Director
(415) 449-3849 or [email protected]
L'Chaim Adult Day Health Center
Anna Borovik, Program Director
(415) 449-2925 or [email protected]
To learn more about the many Seniors At Home services and programs call 844.243.4174 or contact us online.
JFCS' senior clubs are funded by fees for services and by generous donations from individuals and foundations for those who cannot afford the full cost of care. To make a donation, please contact Barbara Farber at [email protected], 415-449-3858, or give online today.
1] https://www.census.gov/prod/2014pubs/p25-1140.pdf
---
Posted by Admin on July 18, 2019