Adopting as an LGBT Couple
When Drew and Flavio met on JDate.com more than eight years ago, they discovered—to their delight—that one of the interests they shared was in raising a family. "I wanted to find a partner with a child who wanted to have another child," says Flavio, a Brazilian-born psychologist. Drew, a high-tech executive who had been in an earlier LGBT relationship in which he was raising a son, was a perfect match.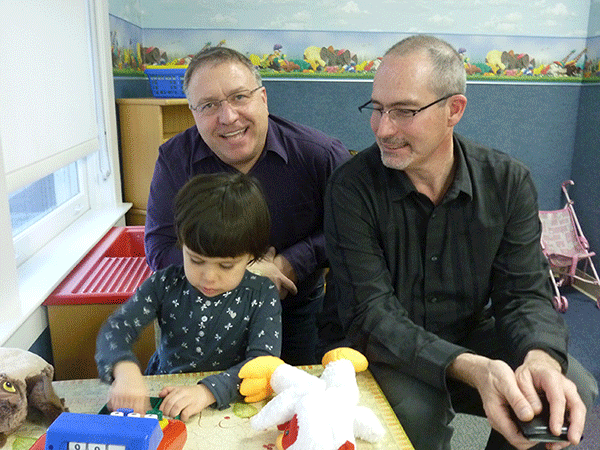 A few years into their marriage, after considering various options, the couple came to realize that open adoption was the best way for them to grow their family. Their thoughts immediately turned to Adoption Connection, JFCS' adoption agency. "We are both Jewish and involved in our synagogue," says Drew, a native of Metro Detroit, "so coming to the Jewish community for help was an obvious choice."
When they looked at Adoption Connection's website, Flavio and Drew liked what they saw. "While other adoption agencies had lesbian and gay male clients, it was clear that we were definitely well-represented at Adoption Connection," says Drew, who subsequently learned that about 25 percent of the agency's clients wishing to become parents are members of the LGBT community.
Drew and Flavio also appreciated the high level of professionalism of the agency's social workers, who are as adept in representing the interests of prospective parents as they are of birthmothers'. Their own social worker at Adoption Connection remained strongly attuned to their desire to adopt and equally sensitive to the needs of a birthmother who had contacted them soon after they initiated the open adoption process. "Our social worker did an outstanding job of navigating around some challenging situations," explains Flavio, "and discussed with us some very useful coping strategies, which helped us to remain calm during a stressful time in our lives."
In the end, there was a very happy outcome: Drew and Flavio not only watched the birth of their daughter, Carina, who was born in April 2012, but cut her umbilical cord.
Now, three years later, they continue to be overjoyed. "It's pretty wonderful," says Drew. "Carina is cheerful, feisty, persistent, and fun. We are blessed to have her." Adds Flavio, "She keeps us on our toes—but that's what she's supposed to do."
The couple also continues to be overjoyed with Adoption Connection, to which they feel deeply connected and grateful—so much so, in fact, that they have become committed and generous donors. "Adoption Connection is an extension of our family," says Drew. "You have to recognize the entities in your life that help support you as a family. You have to give back to those institutions that give you life.
"It was also important," he adds, "that Adoption Connection is part of an agency grounded in Jewish values and that it is part of the Jewish community we were reaching out to. And, to be able to connect as an openly LGBT couple in the Jewish community was also very meaningful to us."
---
Posted by Admin on February 15, 2015