Uniting for Ukraine Eligibility
Based on present information made available on 03/21/2023 by DHS, subject to change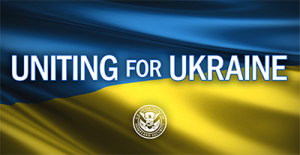 The Uniting for Ukraine process allows for Ukrainians who are abroad to be approved using a supporter for authorized travel to the U.S. in order to be granted humanitarian parole. This is accomplished using a USCIS online portal and the wait time will presumably be shorter than the normal process of applying for humanitarian parole. Once paroled into the U.S., Uniting for Ukraine beneficiaries will be given 2 years of temporary parole status to remain in the U.S. and the ability to apply for work permits, and they may be eligible for many mainstream benefits, including medical insurance, food assistance, and cash aid.
In order to be eligible for this process, supporters and beneficiaries should meet the following criteria:
Beneficiaries
Must be Ukrainian citizen or immediate relative of a Ukrainian citizen. Immediate relatives for this program includes:

Spouse or common-law partner of a Ukrainian citizen; and
Unmarried children under the age of 21.
Immediate relatives must travel with the Ukrainian citizen to be considered for this process
Must have been physically present in Ukraine as of February 11, 2022
Must have Ukrainian passport or be included in parent's Ukrainian passport
Must pass biographic and biometrics background checks, meet public health requirements (including vaccination requirements). Medical requirements include:

First doses of measles, polio, and COVID-19 vaccines; and
Must complete a screening for tuberculosis for individuals two years of age or older
Supporters
Individual (or representative of organization)
U.S.-based person in lawful status, a parolee, or a beneficiary of deferred action or Deferred Enforced Departure
18 years or older
Must provide financial evidence showing ability to support beneficiary—this means showing an income greater than 100% of the Federal Poverty Guidelines. This can be shown with:

Proof of ownership and valuation of assets (financial accounts, property, etc.)
A signed statement from your employer on business letterhead that states the date and nature of your employment, salary paid, and whether the position is temporary or permanent
A copy of your last income federal tax return filed, or a report of commercial rating concern (if self-employed)
A list containing the serial numbers and denominations of bonds and names of the owners (if applicable)
Summary of Uniting for Ukraine Process
Step 1—Supporter Submits Form I-134
Eligible supporter submits Form I-134A using myUSCIS online account. Must create account first, then start the I-134A form. Form submission must include digital uploads of all required financial evidence and proof that sponsor has lawful US status.
Step 2—USCIS Contacts Beneficiaries
Once the I-134A is processed, USCIS will contact the beneficiaries and invite them to create myUSCIS online accounts. USCIS will then request any required biographic and biometric information to be input using this USCIS online account.
Step 3—Vetting and Clearance
USCIS will vet all beneficiaries against national security and law enforcement databases. The myUSCIS system will transmit biographic information for Ukrainian beneficiaries directly to U.S. Customs and Border Protection (CBP) and into CBP's Automated Targeting System (ATS) for vetting.
Step 4—Cleared for Travel
Beneficiaries who are cleared for travel will receive notification via email to log into their myUSCIS account to download their travel document. Beneficiaries using this travel authorization will be authorized to travel via commercial routes into the US for 90 days. Beneficiaries are responsible for arranging their own travel and paying for it and must comply with all health-related travel restrictions.
Step 5—Parole by CBP
Once arriving at a US port of entry, beneficiaries will be inspected by a CBP officer who will make a case-by-case processing determination, to include consideration of parole. Individuals granted parole pursuant to this process will generally be paroled for a period of up two years. Individuals granted parole under this process will be immediately eligible to work and apply for a social security card, and they should immediately apply for an employment authorization document (EAD) with USCIS using Form I-765. There is currently no fee to apply for work authorization for those paroled in under the United for Ukraine program.
NO GUARANTEE OF PAROLE EVEN WITH APPROVED TRAVEL AUTHORIZATION
The determination as to whether to parole a particular noncitizen who presents such authorization remains a case-by-case, discretionary determination made upon arrival at the port of entry.
JFCS' Legal Services is providing immigration services to local families with relatives in Ukraine or recent arrivals from Ukraine. If you or a family member need assistance, please complete our Legal Consultation Request Form.
See our answers to Frequently Asked Questions  about U.S. Immigration Options for Ukrainians and a comprehensive list of Ukrainian Response Resources, including how to get help and give help now.