JFCS: Centuries of Pioneering
JFCS published the "Centuries of Pioneering" book in 2010. It tells the story of the Jewish people in the Bay Area and their work to help others since 1850.
Order Your Book Today! $49.95 plus sales tax and shipping. Call 415-449-1256 to order.
The year 1850 is significant for the Bay Area. California became a state, San Francisco was incorporated, and one of the oldest social service agencies in the country—now known as Jewish Family and Children's Services of San Francisco, the Peninsula, Marin and Sonoma Counties (JFCS)—was established by a group of Bavarian Jews who had immigrated to San Francisco at the time of the California Gold Rush.
This exciting time in history is brought vividly to life in JFCS: Centuries of Pioneering. The book seamlessly connects the agency's development to the Bay Area's growth and shows how the stories of San Francisco and JFCS are inextricably linked.
It All Began with The Eureka Benevolent Society
First known as the Eureka Benevolent Society (EBS), JFCS counts one of its founders as its own—dry goods merchant and civic leader August Helbing. Other early leaders and philanthropists associated with the EBS included the Strauss, Sutro, Hellman, and Haas families, whose names resonate in the Bay Area to this day.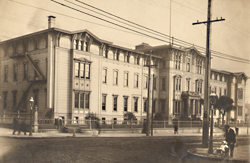 "As the oldest charitable organization west of the Mississippi, the dynamic story of JFCS mirrors the history of California," acknowledges United States Senator Dianne Feinstein (D-California) on the book jacket. "Innovation and a generous spirit combine to make the San Francisco Bay Area a wonderful—and unique—region. This book engages us in exploring how it came to be so, through the eyes of those who helped create it."
Centuries includes a foreword by Kevin Starr, the former California State Librarian and author of many books about California history.
It features hundreds of previously unpublished photos from the JFCS archives, including pictures of an orphanage on Divisadero Street—the Pacific Hebrew Orphan Asylum—and the cottage-style campus, Homewood Terrace, built for orphans and other children whose parents could not take care of them.
It also traces how JFCS responded to "earthquake, influenza, and war" in the early 1900s and later resettled tens of thousands of refugees following wars and revolutions in other parts of the world.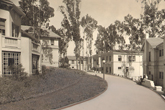 Today, the mission of the agency remains the same: to help individuals, families, and children in need. Each year, JFCS serves 70,000 people through its award-winning programs, including Parents Place family resource centers; Seniors At Home; the Center for Special Needs; the Child Training Institute; the Bullying PreventionProgram; and counseling and consultation services for people of all beliefs and backgrounds.
Order Your Book Today
The price is $49.95 plus sales tax and shipping. Call 415-449-1256 to order.