Support Young Adults Who Have Disabilities
Support Our Young Adult Community Members
---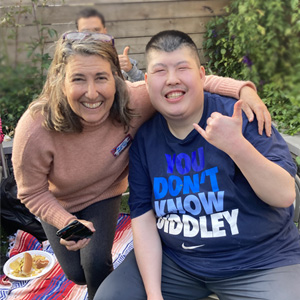 Help us to support young adults with developmental and intellectual disabilities to lead independent and fulfilling lives. Meaningful volunteer opportunities include:
Event Support Volunteer: Assist our staff-run, popular bi-weekly events with the Shupin Social Club. Events include: cooking classes, karaoke, bowling and movie nights. (Volunteer commitment is one event per month, typically on week day evenings. We are seeking volunteers to support in-person events.
Shupin Resident Mentor: Get matched with a Gary Shupin Independent Living Community resident based on your similar interests and personalities. A commitment to partner for six months is required, ideally growing into a longer relationship.
No prior experience working with adults with disabilities is necessary. All that is asked is an open mind and heart, a willingness to learn, and a volunteer commitment of six months or longer.