Young Adult Community Connection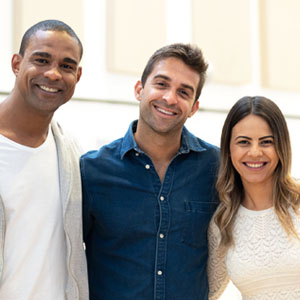 JFCS' Young Adult Community Connection program provides monthly volunteer opportunities for professionals in their 20's and 30's who are looking for a way to contribute, learn, and connect through service and volunteering. Through one-off direct service projects* in JFCS departments, participants meet to volunteer and reflect on social service and action. Service projects range from work in our Foodbank to connecting with the departments and populations that JFCS serves.
For more information and to sign up for an event, contact Tamar Zaken, Outreach Director at [email protected].
*All volunteers must be vaccinated to attend in-person JFCS volunteer events.
Upcoming events:
Young Adult Community Connection—Passover Holiday Bag Stuffing at JFCS
Tuesday March 21, 5:30 – 8:00pm
Join JFCS' Young Adult Community Connection as we prepare for Passover! Every spring, our volunteers help to pack and deliver Passover gift bags to our Seniors At Home and JFCS Food Bank clients. We will start with a light dinner, and then pack holiday bags to help our community celebrate Passover. Sign up here.
Young Adult Community Connection Lag BaOmer Celebration with Shupin Social Club
Monday May 8, 6:00 – 8:00pm 
Join us for a Shupin House, Gary's Place and Community Connection celebration of Lag B'Omer! We will enjoy dinner together around the campfire and learn more about this holiday, which occurs on the 33rd day between Passover and Shavuot! Sign up here.
* A donation of $18 – 36 to support JFCS Disability Services is suggested.
** Please note that in order to participate, you must be vaccinated and boosted.