Advancing the Next Generation of Community Leaders
JFCS offers an inspiring educational experience for Bay Area leaders in their 30s and early 40s who want to put their values into action and learn how to lead for change.
Through the New Leaders Fellowship, you will build friendships with other amazing young professionals, learn from a distinguished faculty, and be part of JFCS' work improving people's lives.
Applications for the 2022 – 2023 New Leaders Fellowship Cohort are open! Click here to apply.
The application deadline is Friday, July 10, 2022
HONE THE SKILLS YOU NEED TO MAKE AN IMPACT

Over the course of ten months, we'll dive into key tenets of nonprofit management, learn how to put personal leadership styles into meaningful action, and build critical leadership skills for life.

CONNECT WITH OTHER YOUNG PROFESSIONALS WHO CARE

As a JFCS Fellow, you'll have the opportunity to build community with a diverse group of peers who share your values and your desire to make the world a better place.

DRAW FROM JEWISH WISDOM TO STRENGTHEN YOUR COMMUNITY

Grapple with the key issues that impact our Jewish and the broader community, now and into the future, and learn from world-renown scholars from the Shalom Hartman Institute.
A Comprehensive Curriculum
Our learning sessions are led by a distinguished faculty of successful community and business leaders, educators, rabbis, and scholars. Throughout the curriculum, we explore:
Steering a successful nonprofit for maximum impact
Creating change through advocacy, community engagement, and philanthropy
Using case studies to approach the most pressing issues facing our community
Leveraging personal leadership styles into effective action
Understanding community and identity needs through a Jewish lens
Fellows have access to influential community leaders, opportunities to meet with legislators, and first-hand exposure to JFCS fundraising, advocacy, and events.
*Pending CDC, State, and City guidelines, our plan is to meet monthly in person. Some elements of the program may also be virtual.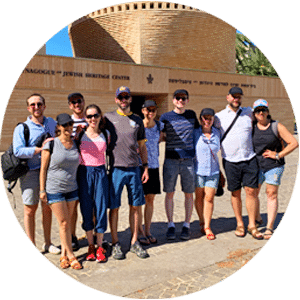 From the Bay Area to Israel
On completion of the program, Fellows will be invited to join JFCS on an exclusive leadership tour of Israel. In Israel, we meet with influential leaders, scholars, educators, and changemakers, as we dive deep into Israeli life and social support systems. We also enjoy delicious meals, days full of learning and adventure, and an opportunity to connect with a diverse group of leaders.
Find out more >
Turn Learning into Impact
Every day, JFCS changes lives. We help individuals and families through all stages of life and provide a lifeline to anyone facing personal crises or challenges.
Graduated Fellows have the opportunity to make a meaningful impact in other peoples' lives through leadership opportunities on JFCS committees and special volunteer initiatives. Many of our graduates have gone on to take meaningful leadership roles, including Board placement at JFCS and other nonprofit organizations! You will also have access to continued learning and networking within our Fellowship Alumni Network.
---
"For me, the Fellowship was an opportunity to learn about non-profit leadership and an invitation to find my own vision for social impact through a uniquely Jewish lens. I grew tremendously: from a place of not-knowing when it came to my role as a person of means and opportunity, to a place of understanding; from a place of having little to no Jewish community of peers, to a place of fellowship. I'm deeply grateful to have had this opportunity and excited to meet the next class of Fellows!"

—Susan Strom, JFCS New Leaders Fellow, 2021 – 2022 Cohort
---
Questions? Contact Tamar Zaken at [email protected]