Dr. Anita Friedman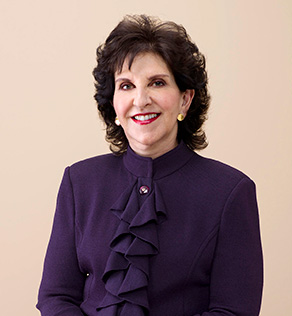 Dr. Anita Friedman has a distinguished record of public service, both as a professional and as a volunteer leader. Her roles in the Jewish and general communities extend from the Bay Area to the national and international arenas.
Professionally, Dr. Friedman heads Jewish Family and Children's Services (JFCS) in the San Francisco Bay Area, one of the largest and oldest family service institutions in the United States. JFCS programs are internationally distinguished for their excellence, innovation, and compassion.
As a speaker, lecturer, and author, Dr. Friedman's expertise includes social policy and programming for diverse populations that include children, youth, families, and the aged; the financing of health and human services; and the development of innovative business and social enterprise models. Dr. Friedman's expertise also includes Holocaust and genocide education. She is the editor of the recently published Rywka's Diary (Harper), now translated into 15 languages and the subject of a forthcoming film.
Dr. Friedman has served on various local, state, national, and international commissions, including as a longtime Commissioner of the San Francisco Human Services Commission, overseeing the City and County of San Francisco's social welfare budget.
As a policy consultant to the State of Israel Ministry of Social Affairs, she has advised on effective policy strategies for human service provision and immigrant absorption. She currently also is a trustee on the national boards for the American Israel Public Affairs Committee, the University of Southern California's Shoah Foundation, the Taube Foundation for Jewish Life & Culture and the Koret Foundation where she serves as President of the Board .
Dr. Friedman's numerous awards include the 2015 San Francisco Business Times' "Most Influential Woman in Business Award," the State of California's Family Service Council Distinguished Leadership Award, the International Louis Kraft Award, the National Myrtle Wreath Award, Jewish Community Federation's Professional of the Year, the Raoul Wallenberg Club Public Service Advocate Award, and A Wider Bridge's Leadership Honor.