Letting the Light In:
An Open Conversation about Identity, Celebrity, and Mental Health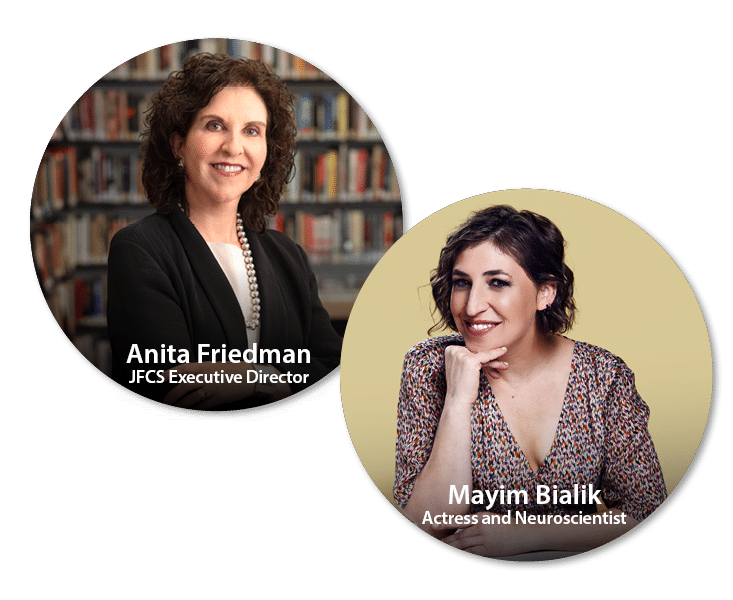 Mayim Bialik, PhD, uses her celebrity platform and her Jewish values to get funny, honest, and real about the things that matter most. This intimate and timely conversation with Dr. Anita Friedman on Jewish identity, life in the spotlight, and the pandemic's impact on mental health will shed light on what we all can do to take care of our community, our loved ones, and ourselves.
Join us in support of JFCS' mental health services for children, adults, families, and the elderly.
"It is a human right for us to know about mental health—to even know what we're experiencing, what to call it, what it means, what to expect if you do get help, how to get help, why it's hard to get help."
—Mayim Bialik
Special rebroadcast! Two opportunities:

May 2, 2021 | 11:00 am (PDT)
May 5, 2021 | 7:00 pm (PDT)
To register by phone, please call 415-449-1264
Can't attend? Make a donation now >
---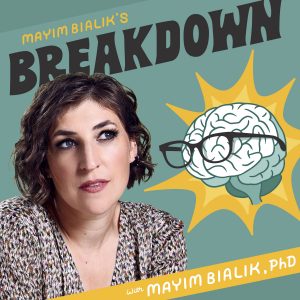 About Mayim Bialik
Mayim Bialik, PhD, is an award-winning actress and a neuroscientist, author, and parent. She is best known for her iconic role as Blossom Russo in the early-1990s sitcom Blossom, and for her role as Amy Farrah Fowler on the hit comedy The Big Bang Theory, for which she received many accolades.
Between these notable performances, Bialik took a break from acting to earn a BS and PhD in Neuroscience from UCLA. Combining her academic and personal experiences, she has authored a myriad of books on everything from cooking to parenting to the science of growing up. Two of her books reached #1 on the New York Times Best-Sellers list: Girling Up: How to Be Strong, Smart and Spectacular and Boying Up: How to be Brave, Bold and Brilliant.
Currently, Bialik is the star and executive producer of Call Me Kat, which airs on FOX. She is also a prominent advocate for mental health awareness, who for years has opened up about her own struggles in order to demystify and destigmatize mental health. In response to the stressors of quarantine and life during Covid-19, she launched a popular podcast last fall titled Mayim Bialik's Breakdown.
A frequent contributor to a variety of Jewish publications, Bialik is syndicated through the Jewish Telegraphic Agency and 70 Faces Media, writing and recording videos about all things Jewish. At UCLA, she was a dedicated student leader in UCLA Hillel, including conducting and writing music for UCLA's Jewish a capella group.
About Dr. Anita Friedman
Dr. Anita Friedman has a distinguished record of public service, both as a professional and as a volunteer leader. Her roles in the Jewish and general communities extend from the Bay Area to the national and international arenas.
Professionally, Dr. Friedman heads Jewish Family and Children's Services (JFCS) in the San Francisco Bay Area, one of the largest and oldest family service institutions in the United States. Dr. Friedman also serves as Board President of the Koret Foundation, one of the Bay Area's most prominent philanthropies.
As a speaker, lecturer, and author, Dr. Friedman's expertise includes social policy and programming for diverse populations—from children and youth to families and the aged; the provision of health and human services; and the development of innovative social enterprise business models.
Dr. Friedman is also an expert on Holocaust and genocide education. She is the editor of the English-language edition of Rywka's Diary (HarperCollins), which has been published in more than a dozen languages and is the subject of a forthcoming film. Another major documentary produced by Dr. Friedman on Eastern European Jewish life is scheduled for completion and global distribution this year.
Dr. Friedman has served on various local, state, national, and international commissions, including as Commissioner of the San Francisco Human Services Commission. She is the recipient of numerous awards for her public service leadership.
To sponsor this event, or become a community partner, please contact Lois Wander at [email protected].
---
Reach Out If You Need Support
JFCS offers comprehensive services for anyone in need of emotional, spiritual, or practical support. If you or someone you care about is struggling, please call our JFCS Bay Area Critical Help Line at 415-449-3700.