Canine Corps
Visit isolated seniors with your friendly dog!
---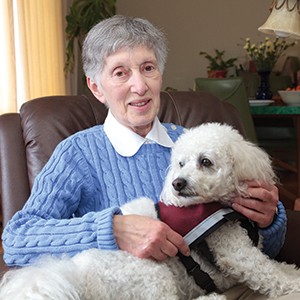 Dogs make wonderful companions. Canine Corps matches trained human and canine teams with JFCS clients in their homes.
Volunteers make a one-year commitment to visit a JFCS client once a week (for about an hour) with their dog. Such visits offer warmth and companionship to those who are often isolated and alone, or can no longer have a dog, but just love them.
JFCS Canine Corps volunteers and their dogs are required to attend and successfully complete the SPCA's Volunteer Canine Training. Find out more about how to get started >
Note: this program is on hold during COVID-19.