Holocaust Center Opportunities
Become a Speakers Bureau Companion or Special Event Volunteer
---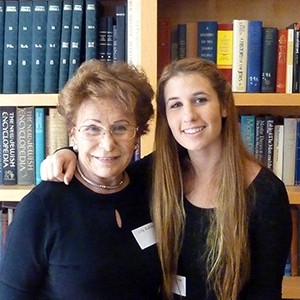 Speakers Bureau Volunteer Companions
Members of the William J. Lowenberg Speakers Bureau teach students and adults about the Holocaust by sharing their eyewitness testimony. Throughout the Bay Area Holocaust survivors connect with thousands of students and residents to address the importance of tolerance, embracing diversity, and combating hatred.
Members of the Speakers Bureau often need a volunteer to accompany them to their speaking engagement, and to drive them to and from their home. Speakers Bureau Volunteer Companions not only help the speaker get to the event with ease, but act as advocates for the speaker, ensuring that they have everything they need to successfully complete the program. Past volunteers have shared with us that their experience has been rewarding and meaningful.
Special Event Volunteers
The JFCS Holocaust Center oversees several large-scale events throughout the year including student conferences and community programs. The Holocaust Center welcomes volunteer support staff to help prepare for these events and provide onsite support. Roles include packet making, welcoming and checking in participants at events, and assisting staff.
Offered in San Francisco and Marin County and on the Peninsula.